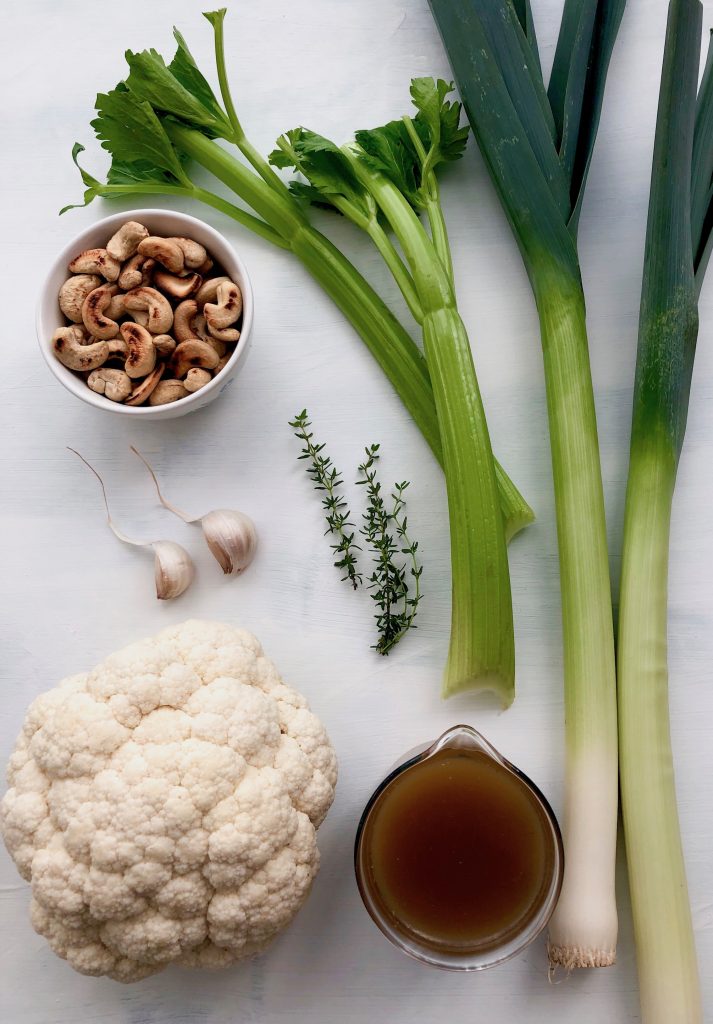 'Tis the season for warming soups made with autumn veg. I have had a hankering for a creamy soup but wanted to make it without the addition of dairy. I have relied on my trusty friend the cashew nut, to solve this culinary conundrum! My Cashew Creamy Leek and Cauliflower Soup is really simple, and as you can see by the accompanying photo, can be made with just a few ingredients.
Abundant in Vitamins C and K, cauliflower, leek, and garlic, are heart healthy and have anti-inflammatory properties. Cashew nuts contain unsaturated and mono-unsaturated fats which help with the absorption of Vitamin K, and this is good for bone health. Vitamin C is necessary in boosting our immune system, while supporting the growth of healthy tissues.
I started my soup base with a trio of ingredients: leek, celery, and garlic, gently sautéed in light olive oil. I added to this a head of cauliflower florettes, and 400ml of homemade beef bone broth I happened to have on hand. An additional 600 ml of boiled water, plus a 1/2 cup of toasted cashew nuts, and this simmered away for about 20 minutes. When the veg had softened, into the blender the mixture went along with the leaves from a few sprigs of fresh thyme, and salt and pepper to taste.
Served up warm, this was the perfect complement to this chilly Amsterdam autumn afternoon!
Ingredients
2 Tbsp light olive oil
2 leeks, chopped into .5 cm rings
2 stalks of celery, finely chopped
2-3 cloves garlic, minced
1 medium head of cauliflower, broken into florettes
1/2 cup toasted cashew nuts
400 ml bone broth, or vegetable stock
600 ml water
a few sprigs of fresh thyme
Salt and pepper to taste
Directions
On a medium flame, heat the oil in a heavy bottomed soup pot and gently sweat the leeks and celery for 4 – 5 minutes. Add the garlic and give it a stir for another minute. Place the cauliflower florettes and toasted cashews into the pot, cover with 400 ml of stock and 600 ml of hot, boiled water, and allow this to simmer on low for about 20 minutes.
By now, the vegetables should have softened. Remove the pot from the heat and allow it to cool for a minute or two. Carefully ladle the soup into a blender, add the fresh thyme leaves and blend on high to bring it to the state of a creamy soup (about 45 seconds or so.) (You can also use a staff mixer and plunge this directly into the pot, blending to your desired consistency.)
If using a blender, pour the blended mixture back into the pot re-heat, and season with salt and freshly cracked pepper to your taste. Ladle into soup bowls and garnish with fresh thyme.