I am in love! I have been eyeing up this bakeware for quite some time, and finally treated myself to a beautiful Nordic Ware Heritage Bundt pan.
To begin, I adore the design! I have Nigella Lawson to thank for this – her bundt cakes take on many forms, and this traditional design seems to feature quite often in her show. Just look at all of those nooks, crannies, peaks, and valleys waiting for a glistening berry coulis, a dollop of cream or coconut yogurt, or perhaps a decadent drizzle of my ultimate favourite: bourbon vanilla salted caramel.
I was over in the eastern part of the city and as is part of my routine when I am there, I stopped in to my favourite kitchen shop – Duikelman's. There are SO many patterns and designs to tempt, but I had my heart set on this pan (perhaps my inner Nigella reaching out!) I have been wanting to 'healthify' a lemon poppyseed cake and since blueberries are in season, this pan gave me a final reason to get into the kitchen and develop a new recipe.
As I typically do when creating from scratch, I consulted a few books and bakers and combined their expertise to come up with a final version. I am quite pleased with the way this turned out – the cake is firm, lemony, absolutely sweet enough, and moist. I kept in the eggs, changed out wheat flour for a buckwheat/brown rice/arrowroot gluten free combo, and I substituted light olive oil for butter. I also switched up coconut sugar for refined white sugar, and that's why the cake has a darker tone as compared to a typical bright and lemony yellow cake.
If I had to pick any berry to satisfy for the rest of my days, it would be the small and mighty blueberry. Packed with antioxidants and Vitamin C, they are also loaded with fibre, are cancer-fighters, and excellent for your brain and heart health. Pies, coulis, dried in trail mix or muffins, with pancakes, and straight off the branch, in my books, blueberries are such a versatile gift from Mama Nature. The berries I used in this recipe are from my organic market here in Amsterdam. If you live in a part of the world where you can access wild blueberries, all the better, as these are touted to have the most powerful health benefits.
And now, on to the delicious recipe!
Lemon Poppyseed Bundt Cake with a Blueberry Coulis:
5 medium eggs

1-½ cups coconut yogurt (divided)

juice and rind of one lemon

3 Tbsp poppy seeds

1 cup brown rice flour

1 cup buckwheat flour

¼ cup arrowroot powder

1-¼ cup coconut sugar

1 Tbsp baking powder

¾ tsp baking soda

¾ tsp salt

135ml light olive oil
Directions:
Pre-heat oven to 180C/350F, lightly grease a 10-12 cup bundt pan.

In a medium bowl, mix together the eggs, 1 cup of the yogurt, lemon juice and rind, and the poppy seeds.

In a larger bowl, or the bowl of a standing mixer, place the flours, arrowroot, sugar, baking powder and baking soda, and mix on the lowest setting for about 30 seconds. Now add the oil, and the remaining ½ cup of yogurt, and mix until the dry ingredients are wet.

Add the egg/yogurt mixture, in three additions, blending well after each addition. Scrape down the sides of the bowl when necessary. When all ingredients are combined, beat on high for one more minute, until you see the volume has increased. Pour the batter into a lightly greased bundt pan and bake for 40 to 60 minutes* until light brown on top, and a wooden skewer inserted comes out clean. (When trying out a new pan, I set my timer for half the baking time and have a look to see how it's doing at that point. If not sure, check it every 5-10 minutes after the halfway point (avoid opening the oven door!) and adjust your time as necessary.)

When your cake is done, take it out of the oven and allow it to sit for about an hour before turning it out onto a cake plate or drying rack. Serve this gem with a touch of blueberry or raspberry coulis, and another dollop of coconut yogurt, if you like

To make a berry coulis, take 2 cups of berries, and two tablespoons of maple syrup or honey, and warm this in a small pot just until the berries begin to soften and can be broken down with a fork, about 2-3 minutes. Remove the berries from the heat and push them through a sieve (set over a bowl) with a spoon. Doing this, you'll gently break down the skins and turn them into the saucy coulis; for the raspberries, it will separate the seeds from the flesh of the fruit. Serve your coulis alongside the cake. 

*I have given a range of baking times due to the different types of bundt pans available. Having just purchased a pan from Nordic Ware and I have to say, it's the best baking pan I have used to date! It's sturdy, the cake turned out beautifully, and it's a delightfully pleasing design!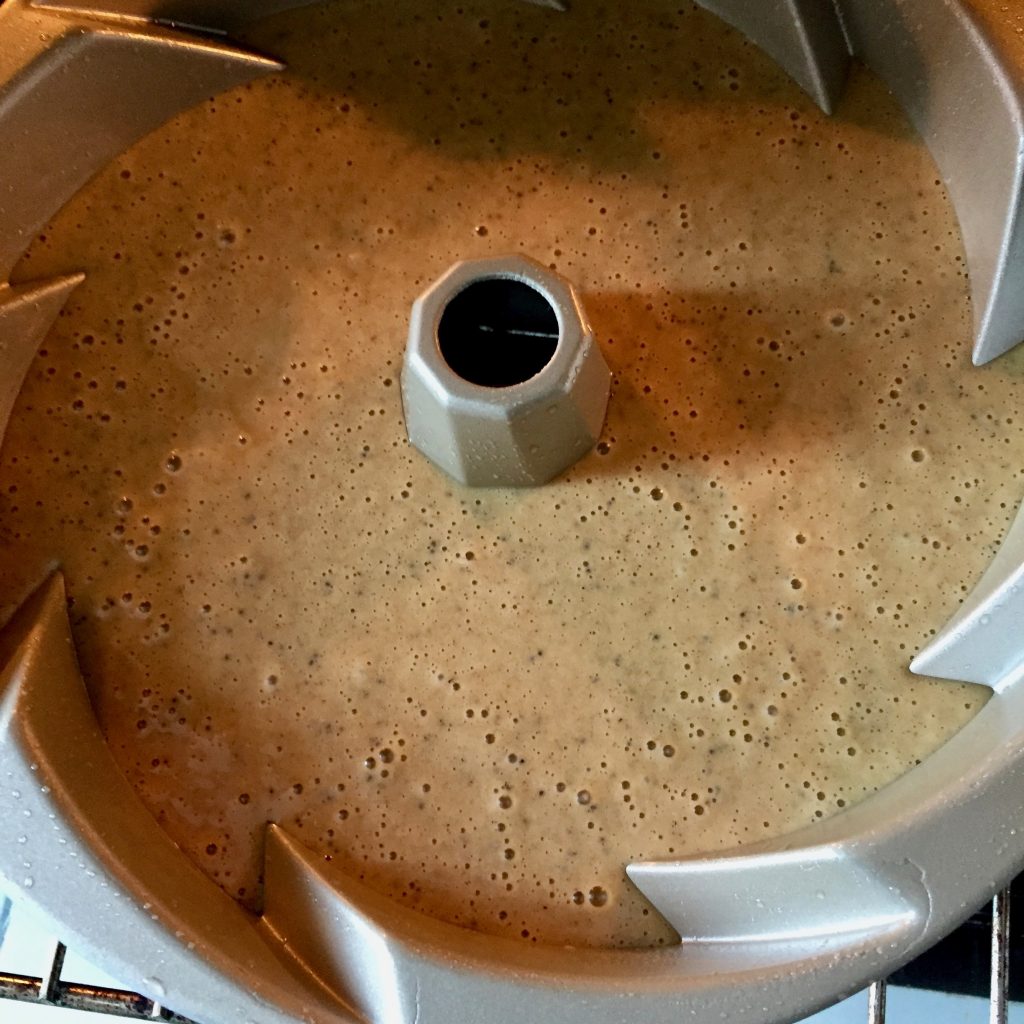 Batter in the pan.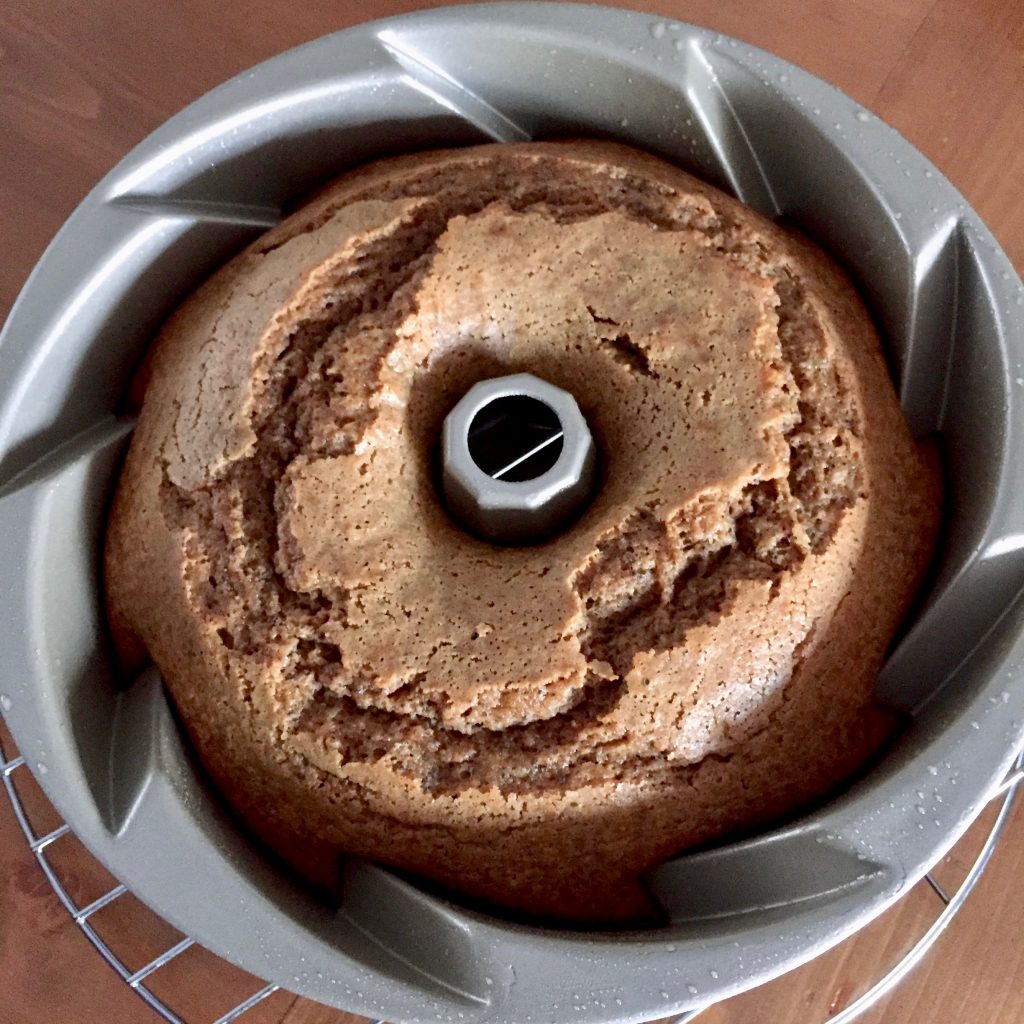 Fresh out of the oven!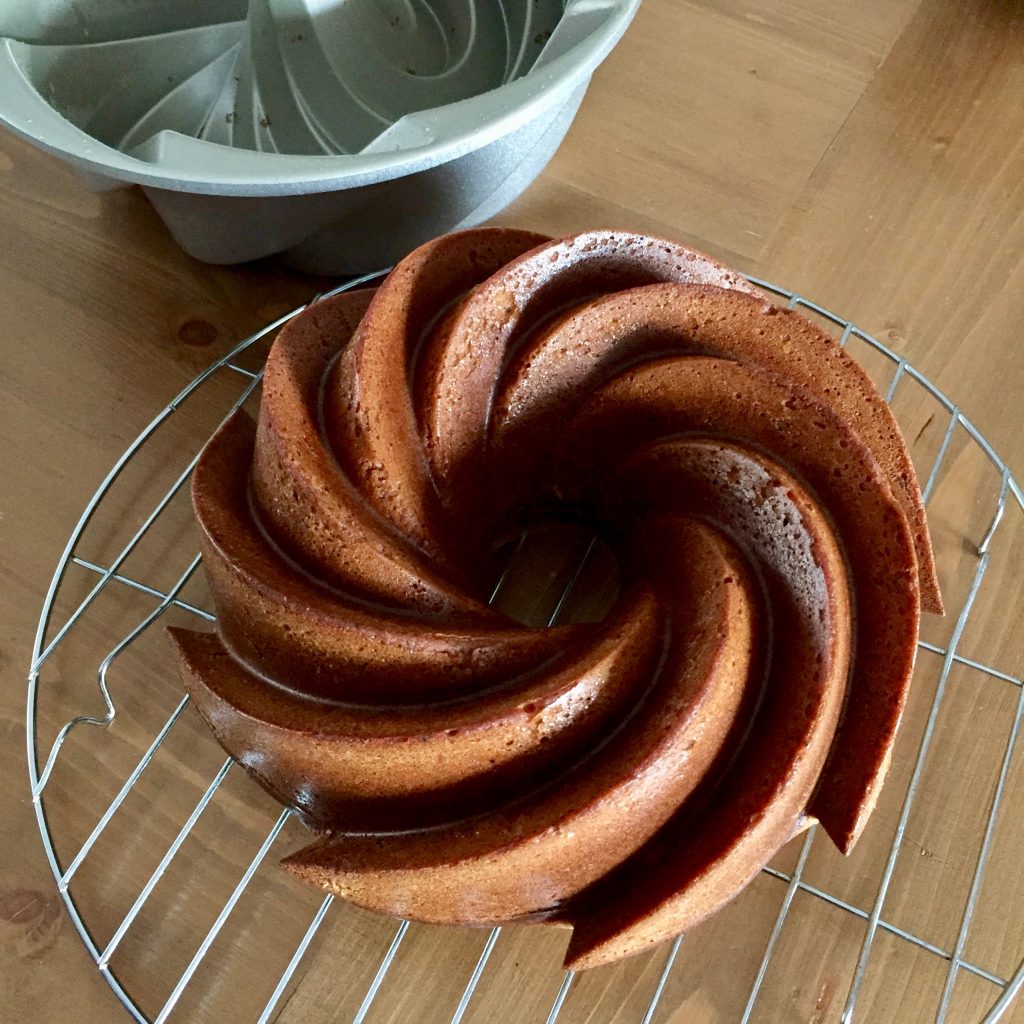 The final product (I wish you had smell-o-vision!)