Energy bites are all the rage these days. Little round balls, a bite or two, filled with the goodness of magnesium rich cacao, crunchy omega 3 seeds, friendly fat coconut oil, or fibre-filled flax. While these Nanaimo Bites may give you a surge of energy, admittedly, they are not entirely healthy due to the full-blown refined powdered sugar custardy centres.
Nanaimo bars are a treat. Full stop. In Canada, they make their way onto many a bridal or baby shower dessert table, and are enjoyed at holiday gatherings. With the energy bite craze popping up at cafés and bio shops, I thought I'd make a go of it with Nanaimo Bites: everything you get in a bar, but in a round ball that you can grab on the run to enjoy with your morning cuppa. They are more time consuming to make, but it was fun for the experiment. Will I make them in this form again? Maybe. The bars are definitely easier, but these do impress fellow Canucks who are pleasantly surprised at this new shape of their family favourite.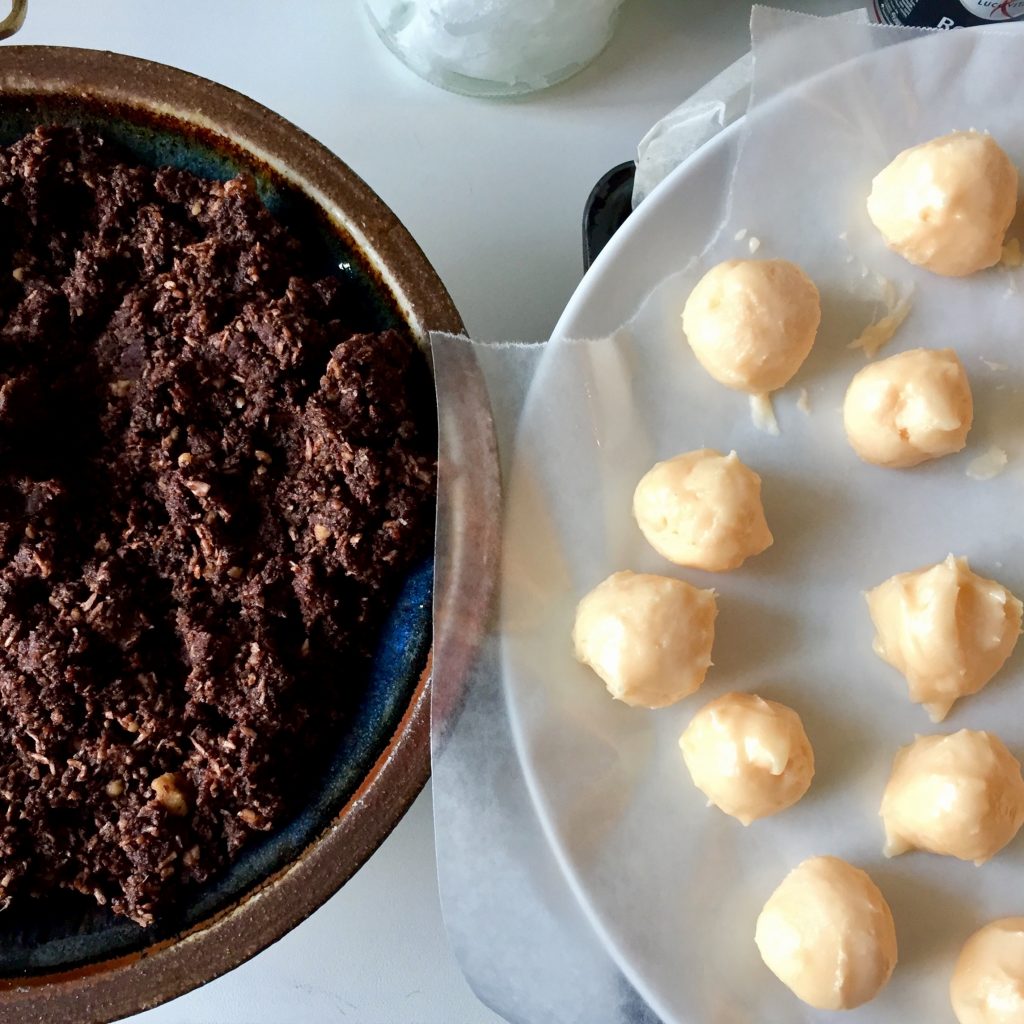 Ingredients for the casing:
1/2 cup butter (If making it vegan: 1/2 cup coconut oil)
1/4 cup sugar
5 Tbsp Dutch cocoa powder
1 egg, lightly beaten (vegan:  1 chia egg = 1 Tbsp chia seeds, 3 Tbsp water, mixed together and put aside to gel for about 15 mnutes)
1 tsp, vanilla extract
2 cups graham cracker crumbs
1 cup shredded coconut
1/2 cup finely chopped walnuts
Create the casing:
Melt the butter
(or coconut oil)
in a heavy saucepan. Stir in the sugar and cocoa powder until smooth. Remove from the heat and stir in the crumbs, coconut and nuts. Whisk the egg
(or chia egg)
with vanilla and stir this into the butter
(or coconut oil)
mixture. Chill until it starts to set a bit, at least 30 minutes. This will make them easier to form into the outer casing.
For the centre:
5 Tbsp room temperature butter (vegan: coconut oil) 
2 Tbsp custard powder
3-4 Tbsp milk (scant) (vegan: almond milk)
2-1/2 cups icing sugar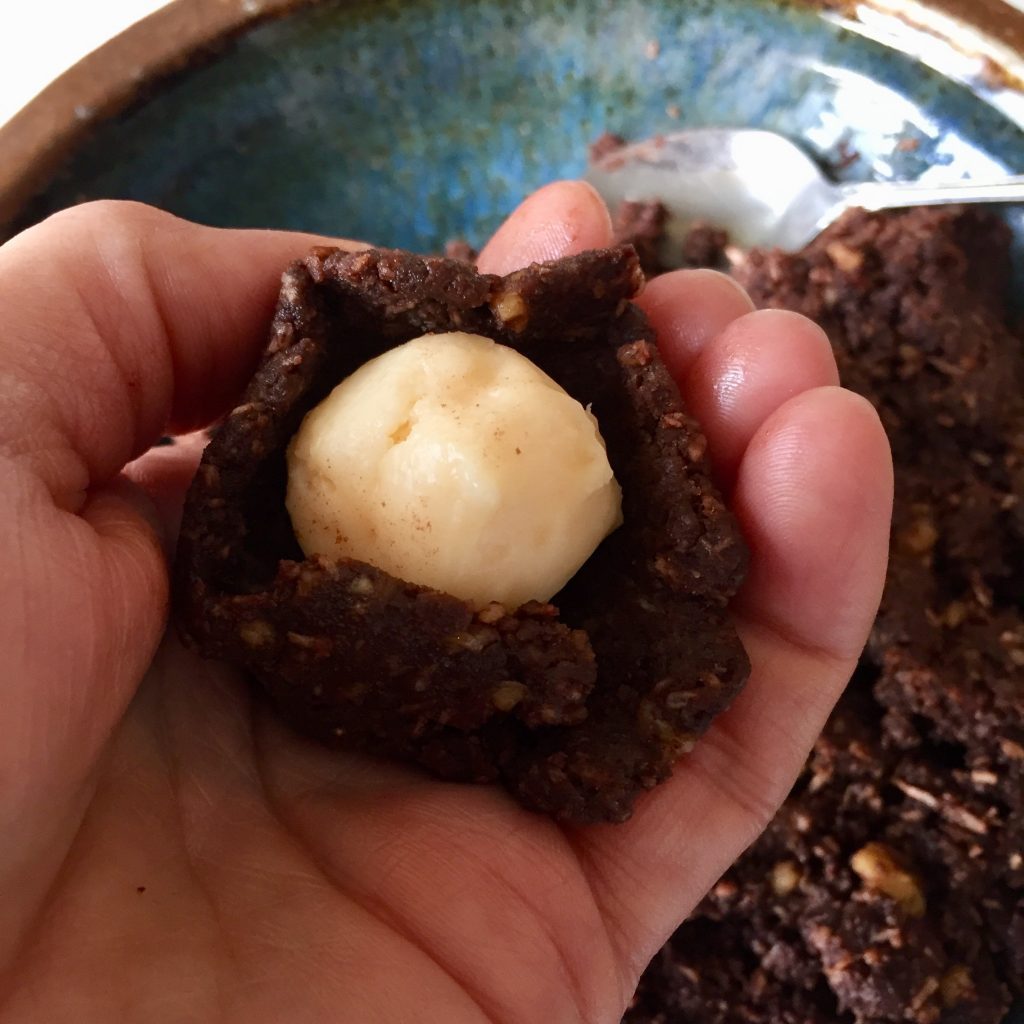 Create the centre:
While the casing is setting up in the fridge, beat the room temperature butter
(or coconut oil)
with the custard powder and icing sugar. Gradually beat in the milk
(or almond milk.) 
Only add enough milk to make this layer spreadable. It should be very thick – like a thick peanut butter consistency. Let it set in the fridge for at least 30 minutes. When this is set, form into small balls – about the size of a small gum ball (teaspoon), and put them back in the fridge to keep cold.
Assemble the first two "layers" by taking a hefty tablespoon of the chocolate crumb casing, and forming it into a pocket in your hand. Now take one of the custard balls, and place it into the chocolate pocket. Gently form the casing around it, and set it back on the tray. When you have formed all of the bites, place this back in the fridge to chill up for another 20 minutes or so. It's best to have these cold when you dip them in the chocolate coating.
For the chocolate coating:
150 grams dark chocolate
3 Tbsp butter (vegan: 2 Tbsp coconut oil)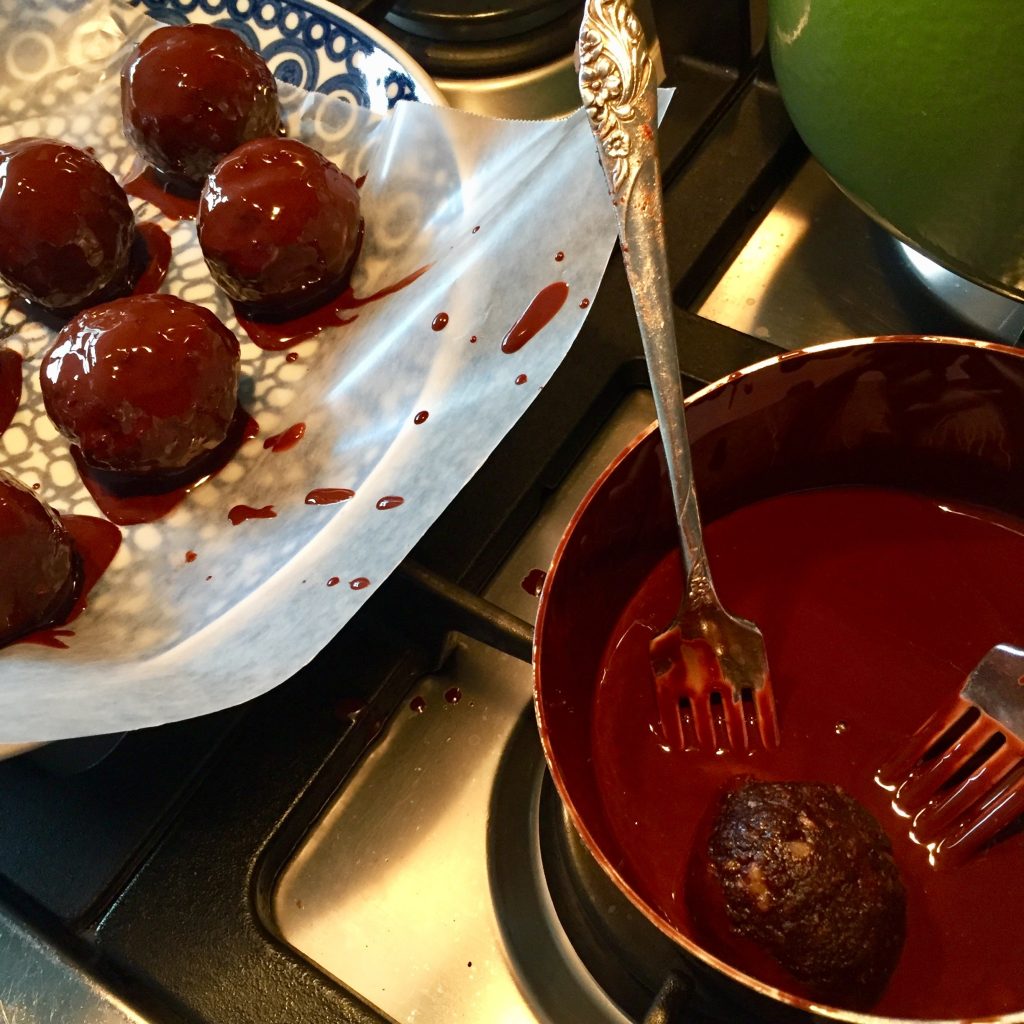 To create the chocolate coating:
Very slowly and over a low heat, melt the butter
(coconut oil)
then add the bits of chocolate and stir together until they are fully melted and combined. Take the chilled bites out of the fridge, and using two forks, dip each bite into the melted chocolate and turn to coat evenly. When the ball is coated, place on a piece of waxed paper, on a tray. When you've coated all of the bites, put the full tray into the fridge to set (30 mins.)
Impress your friends with this new and fun variation: Nanaimo Bites! Good, but not so good for you…. 😉