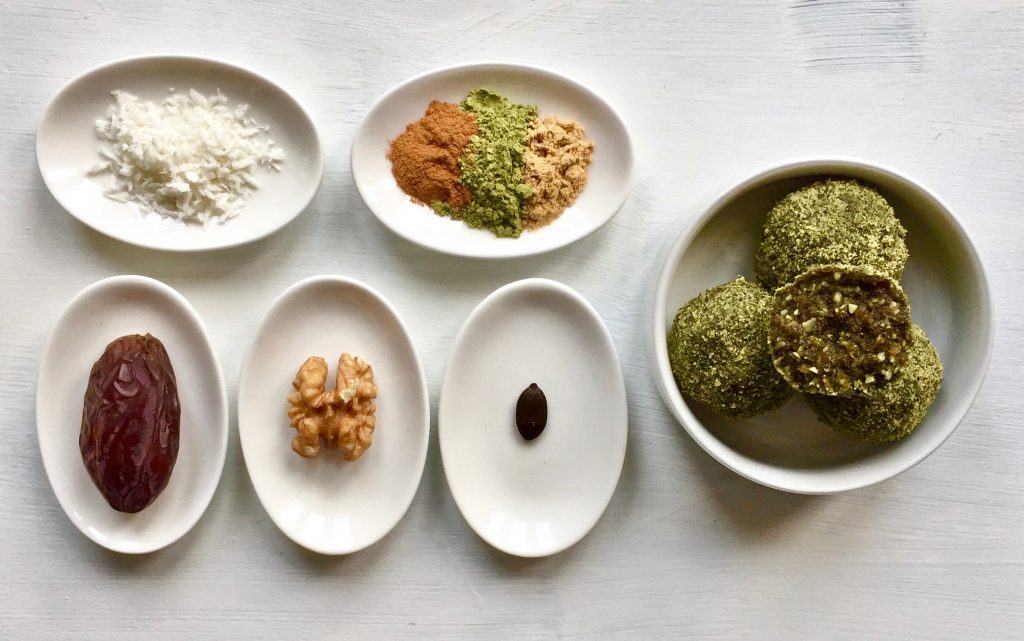 Earthy. Cleansing. Energizing. I shared one of these energy bites with a friend at school yesterday and these were the words we came up with to describe the flavours and sensations from these delicious energy bites. The matcha tea powder gives these bites their earthy flavour. Walnuts and pumpkin seeds, finely chopped, balance out the sweetness from the medjool dates. Coconut, ginger, and cinnamon add depth to this warm combination of tastes.
Health-wise, these three-bite wonders come packed with antioxidant and anti-inflammatory properties found in the matcha, cinnamon, and ginger. The pumpkin seeds have antimicrobial properties and are loaded with zinc to keep our immune system healthy. Seeds and nuts help to maintain stable blood sugar levels. I chose walnuts for their Omega 3 monounsaturated fats which offer cardiovascular protection as well as fight inflammation.
Great to eat any time of the day, I popped one in my mouth at the end of my school day, as a little pick-me-up for my train ride home. I hope you try the recipe and enjoy the combination of flavours. The health benefits are many. I think you'll taste this goodness with every bite!
For the energy bites, you will need:
3/4 cup walnuts, toasted
1/4 cup raw pumpkin seeds
14 medjool dates, pits removed
1/4 cup shredded coconut
1 Tbsp matcha tea powder
1 Tbsp melted coconut oil
1/4 tsp ground ginger
1/4 tsp ground cinnamon
pinch of sea salt
1/4 cup raw pumpkin seeds, finely ground, for rolling
Directions
Measure the walnuts and pumpkin seeds into your food processor and pulse until they are well broken down. You don't need a fine meal, but there shouldn't be large chunks (this makes it easier for rolling.)
Add the pitted dates, and pulse again until they are combined with the nuts.
Add the remaining ingredients and whirl around until the mixture is combined and, when pressed together, sticks!
Roll into balls and swirl around in the ground pumpkin seeds. This typically makes between 12-14 energy bites.
Store in a glass container, in the fridge, for four days,
or in the freezer for a few weeks.