My queendom for a not-too-sweet fruit crumble! This is the task I gave to myself over the weekend: come up with a delicious seasonal fruit crumble that was gluten and lactose free, and also low on the sweetness scale, using only natural sugars.
I do believe I hit the mark! I used lovely organic pears and apples for the main fruit and added some chopped medjool dates to help sweeten and add a touch of caramel to the base. I formed the crumble topping by mixing ghee with gluten free oats, crushed toasted walnuts and Brazil nuts, and a touch of coconut sugar. Siding this with coconut ice-cream, my vision for this not-too-sweet, gluten free, dairy free, low sugar crumble, came to be. Dinner guests were as impressed as I, and only a scoop or two remained in the pan!
Please read on to see how you might update your fruit crumble so you can honour the sweetness Mama Nature so beautifully supplies in seasonal fruit, by not adding refined sugars. As mentioned, pears and apples were on hand, and I believe you can make this with any combination of fruits as long as you have a yield of about six heaping cups of fruit (depending on the size of your pan; I used a deep dish 20 x 25cm, or 8 x 10 inch ceramic pan.)
For the fruit base, you will need:
1/4 cup coconut sugar
2 tablespoons brown rice flour
1-1/2 tsp cinnamon
3 large pears, peeled and chopped into 2x2cm chunks
2 apples, peeled and chopped into 2x2cm chunks
6 medjool dates, finely chopped (I cut mine with kitchen shears)
juice of 1/2 a lemon
For the topping, you will need:
1/3 cup finely chopped or ground, toasted walnuts
6 finely chopped or ground, toasted Brazil nuts
3/4 cup ground gluten free oats, or oat flour
1/3 cup coconut sugar
6 tablespoons of ghee, chilled, plus a bit for greasing the pan
Directions
1. Preheat the oven to 190C. Prepare a deep dish baking pan (20 x 25cms) by greasing the bottom and sides with about a teaspoon of ghee (you can also use coconut oil for this part.)
2. Make the base in a small bowl by combining the sugar, flour, and cinnamon. In a larger mixing bowl, toss the peeled and chopped pears, apples, and dates with the lemon juice. Add the flour mixture to this, toss until the fruit is coated, and then spread this in the bottom of your prepared pan. If this seems like a mound of fruit, higher than the sides of the pan, don't worry, it will shrink down with cooking.
3. Make the topping by placing the ground nuts, oats, and sugar into a medium bowl and mix well to combine. Add the chilled ghee by the tablespoonful, and rub this mixture together between your fingers until a coarse, pea-size crumb is formed. Crumble this over top of the fruit in the baking dish and pop it in the oven for about 50 minutes. By this time, you should hear the fruit bubbling away under the golden topping.
4. When the top is golden brown, remove the pan from the oven and run a knife around the edge of the pan, place it on a rack and allow it to cool for about 20-30 minutes before serving. You can add a scoop or two of your favourite vanilla or coconut ice-cream (vegan or not) to complement the warmth of the dish.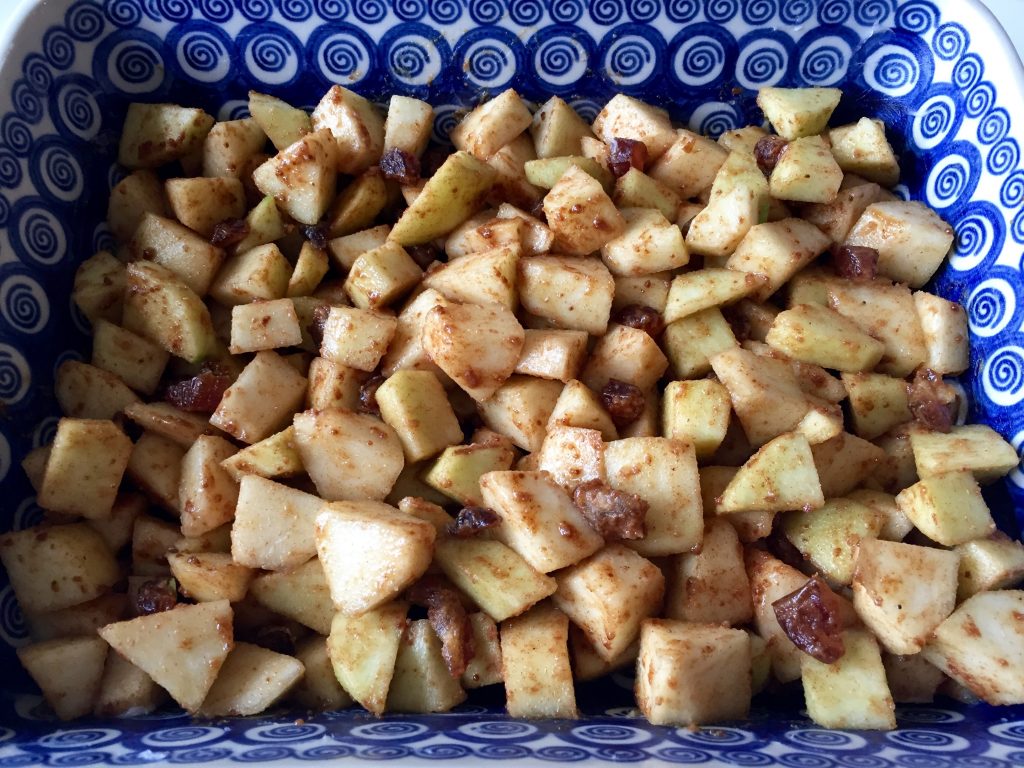 Prepared fruit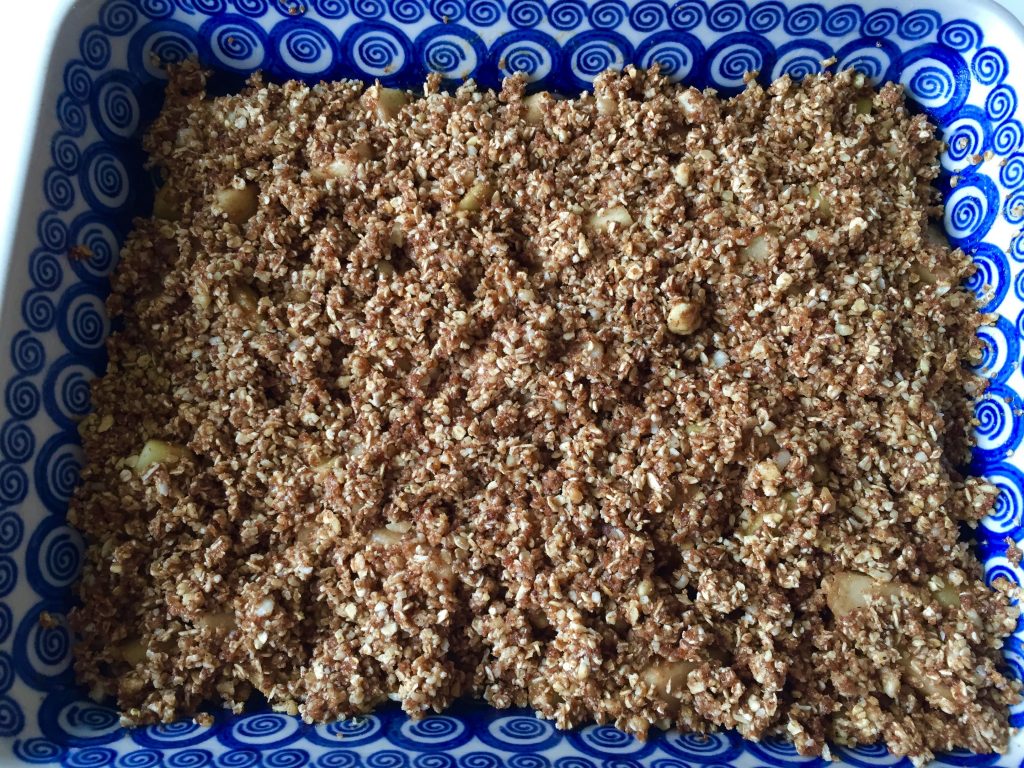 Crumble on, ready for the oven!