Crispy on the outside and chewy on the inside; that's how I like my chocolate chip cookies!
Dense, fudgy, chewy crust, not too sweet, and with chocolate bits and toasted walnuts; that's how I like my brownies!
This past summer when I was up at the lake in Muskoka, I had the pleasure of visiting Abbey's Bake House in Port Carling. Having tasted their outstanding homemade ice-cream, my niece and I wandered up to the bakery and bought what was clearly, a match made in heaven. They called it The Cookie Ate My Brownie. I called it, pure bliss!  Basically, they took a delicious brownie bite and encased it with an equally delicious chocolate chip cookie dough. Pop that in the oven, and out comes a combination of two perfectly chewy and super chocolatey treats!
As I do, I immediately thought, I can make this at home! At the cottage, we analyzed and dissected the cookie brownie combo. The consensus was that I needed to have a dense, rich brownie – nothing cake-like, or it could dry out since it was going through a second bake. The chocolate chip cookie recipe needed to have some elasticity so it could happily wrap itself around the brownie bite and sustain itself through the baking time. I have a tried and true Chocolate Chip Cookie recipe that I've been using since I was a kid. And, I have two brownie recipes that I have come to rely upon Cocoa Brownies with Browned Butter and Walnuts from Food 52. And, Mabel's Triple Chocolate Brownies, found via the Toronto Star.
Back in Amsterdam, it was time to give this a go. I thought it would be good to try out a gluten free version of the cookie dough to see if it would hold up to the test of being wrapped around a brownie bite. So, what you have in this post is really four recipes and seven outcomes! What did I eat for breakfast, lunch, and dinner yesterday? Chocolate! And I loved every bite 🙂
So, onto the experiments. As you can read in my post about the chocolate chip cookie dough, I made one batch with regular, all purpose flour, and the other with buckwheat flour, which is gluten free. I found they both stood up to my standard of a crispy, chewy cookie but with the buckwheat being the tiniest bit crumbly in comparison to the traditional all purpose flour batch. As for the brownies, the Browned Butter Brownies were certainly dense enough and held up to the task of staying moist through their second time in the oven. As well, Mabel's Brownie, with its heavy composition, had no problem going through a second bake and held up beautifully.
To prepare these, I took pieces of brownie that were about 2.5 x 2.5 x 2.5 cms (1 x 1 x 1 inch) and I simply wrapped some chocolate chip cookie dough around them. In the end, they were BIG! The final ball of cookie + brownie was about the size of a boiled egg… if a boiled egg was spherical! I could only bake 4 on a cookie sheet lined with baking parchment. While the chocolate chip cookies took 10 minutes in a 180C oven, the Crownies took 14 minutes in a 180C oven.
The photographs in this post, speak for themselves. I have made notes to show how the combinations came together and presented in their final form (see below.) After a thorough taste-test, I came to the conclusion that Mabel's Brownie (with the ganache left off) and the all purpose flour cookie, made for the chewiest combination. In reducing my gluten intake, I would happily go with the buckwheat cookie dough, enveloping Mabel's Brownie.
Here you have it: Cookies + Brownies = Crownies! I am really pleased with the outcome. Best done over a couple of days, this is a recipe where you go the extra mile because, while not labour intensive, it is time consuming to pull together. Next time you bake a batch of brownies, cut out a row or two, and set them aside, for Crownies. Indulge!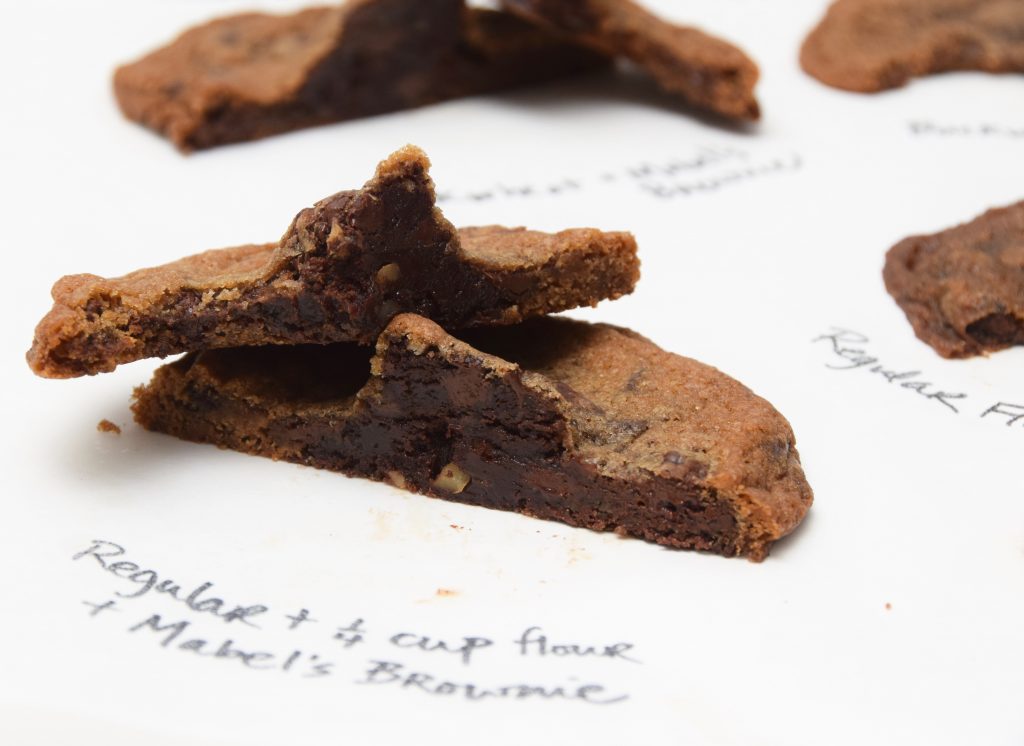 Notes on the Crownies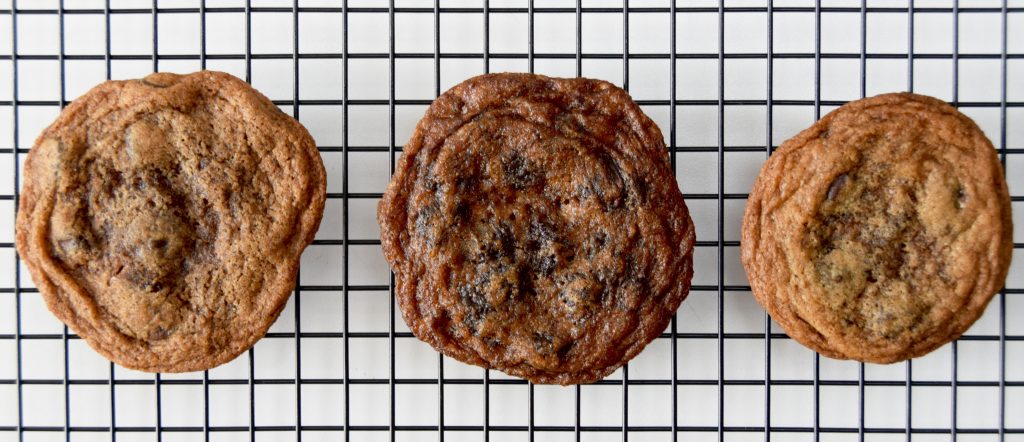 Flours:  Buckwheat flour. All purpose flour. All purpose flour + an extra 1/4 cup.
Cocoa Brownies with Browned Butter and Walnuts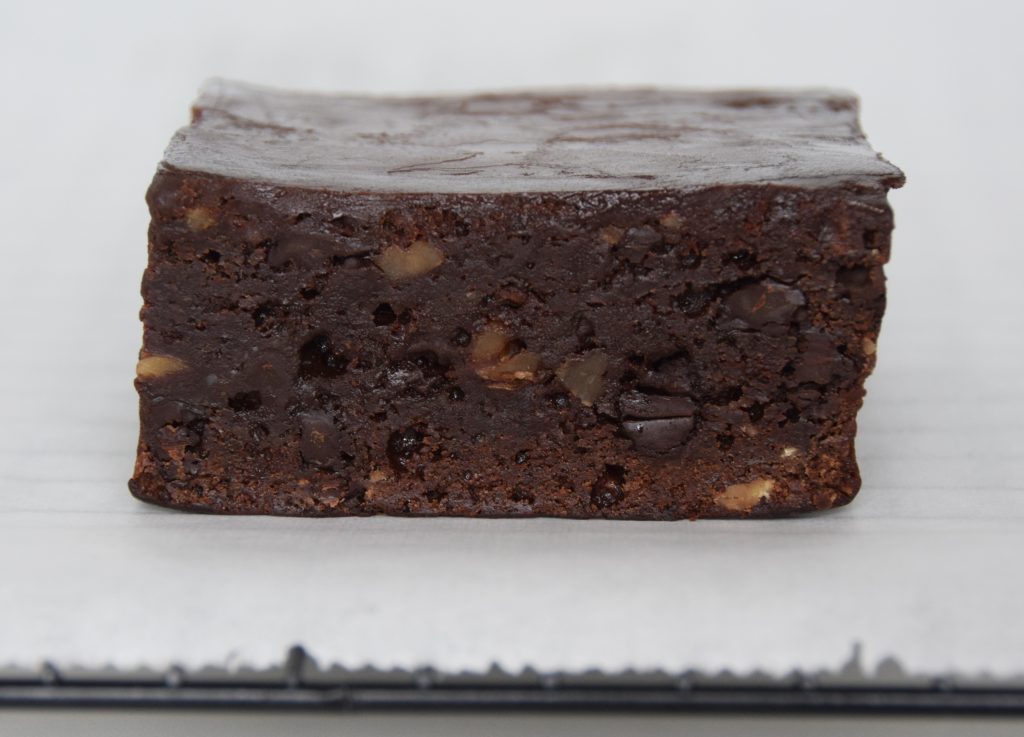 Mabel's Triple Chocolate Brownies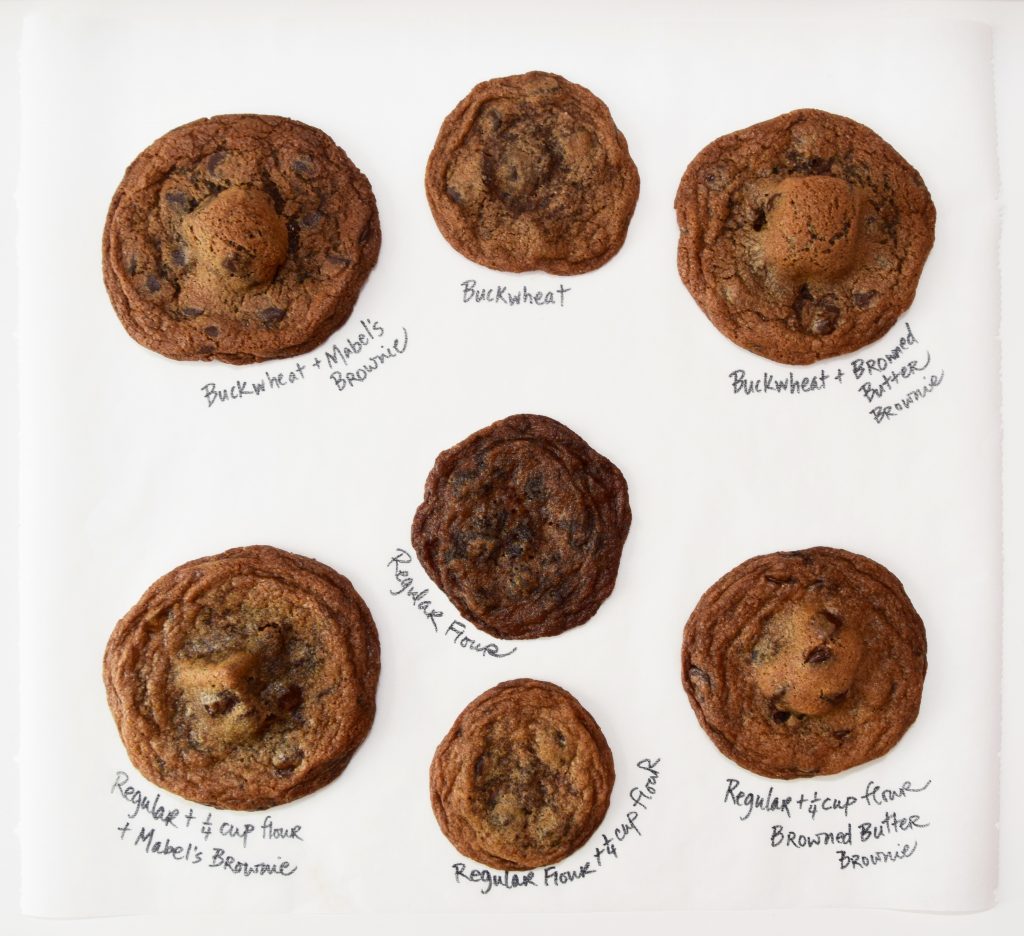 Notes…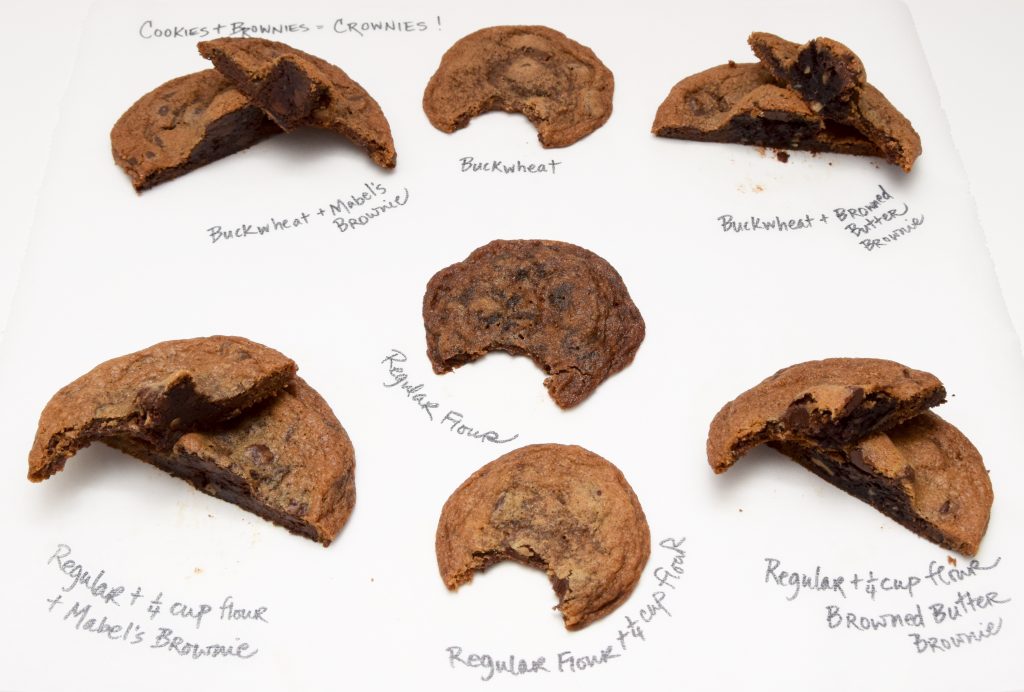 And, after a few bites 🙂