Tulip season. Asparagus season. Two of my favourites are cheerfully sneaking in to mark the start of spring! To celebrate, I have a dish for you that combines beautifully, seafood and veg. This pasta combo is kissed with fragrant lemon and basil to make it a well-rounded, flavourful meal.
The ingredients? Basically, what you see, is what you get. A handful of cleaned shrimp and about four stalks of asparagus per person, will make the base for this dish; I chose to add garlic, lemon, and basil to complement. Fresh pepper and Parmesan suit perfectly and finish the dish. This is quite simple to pull together and from start to finish can be on your table in about 25 minutes. Feel free to use rice noodles, spaghetti noodles, or any pasta of your choice.
How to?  Ingredients for two people:
bring enough water to the boil
cook noodles for two, as per package instructions
clean 12 shrimp and set aside
slice 8 asparagus spears into bite-sized pieces
chiffonade half a dozen or so fresh basil leaves
have a garlic clove or two at the ready for pressing
grate the rind of one lemon
a generous drizzle of olive oil to help mix it all together
grate a chunk of fresh Parmesan on each dish as you serve it
freshly cracked pepper to taste
While the water is coming to a boil you can prepare the other ingredients. When ready, add the noodles to the water and cook as per instructions. When there are about 2 minutes left in the cooking time, add the shrimp and asparagus to the pasta water. Cook for another 2 minutes and drain the lot.
The rest of the ingredients should be chopped and ready to go in a large enough bowl so you can easily toss everything together. Transfer the drained noodles, shrimp, and asparagus to the large bowl and gently toss it all together. Serve, with fresh parmesan and pepper. Enjoy every bite!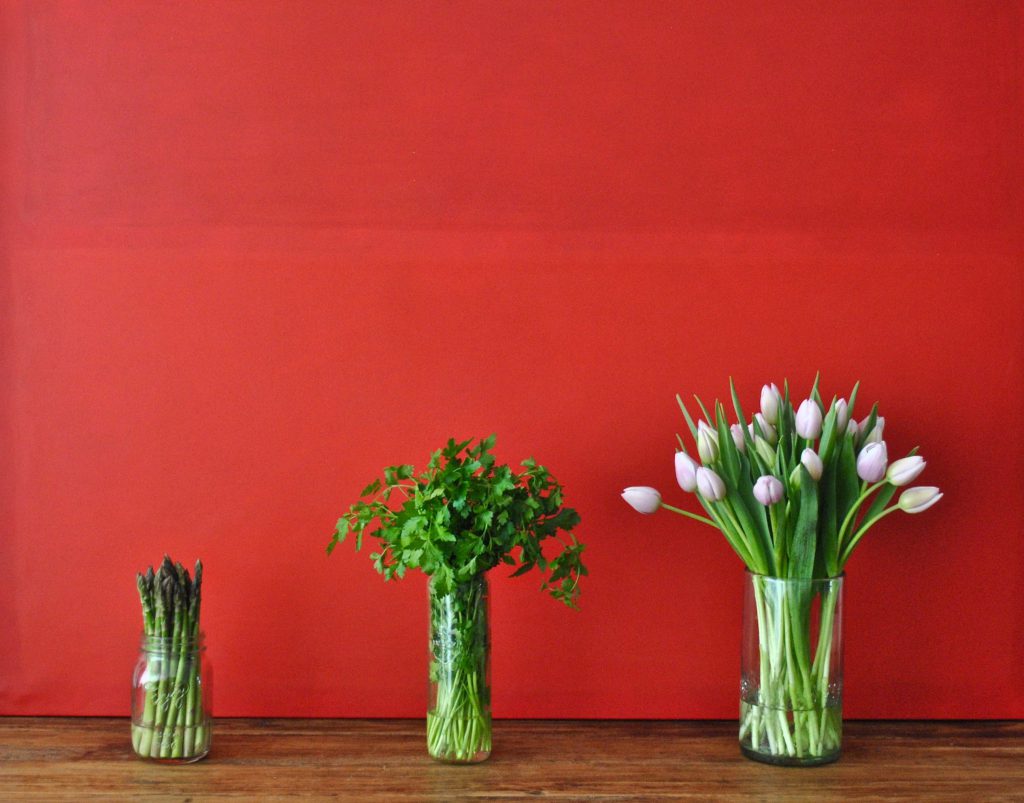 Still Life with Fresh Asparagus, Coriander, and Lavender Tulips in front of, My Rothko.