It's peach season!
I just got back from three glorious weeks in Ontario where I visited family and friends I have not seen in three years. The pandemic, with its flight restrictions, quarantines and isolation rules, kept me from making it home any sooner. Over delicious meals, cool cocktails, and warm summer days I topped up my tank with wonderful memory, and merry-making. Visits always involved a meal of some sort. I revisited favourites and tried a few new restaurants and dishes. The peach, a summer staple, became a regular juicy treat. I didn't have time to delve into much baking during my visit and these mini galettes came about because I was happy to be reunited with my oven 🙂 and came upon glorious juicy peaches at my local Saturday bio market.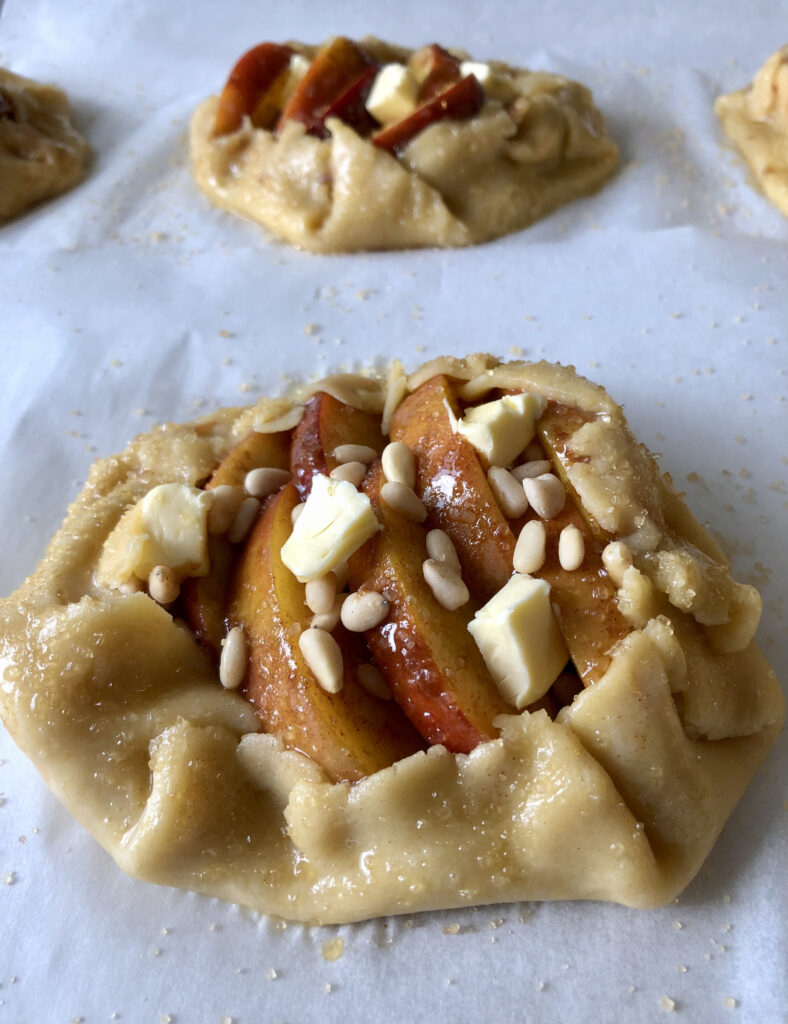 I remember making apple galette with my mom, gosh, about 30 years ago! It's been a go-to recipe and is always reliable in its final product. The fun thing about galette is that it can be formed into various sizes which can suit the kind of final dessert you want to present. A full galette – about the size of a medium pizza – is great to present to a full table of guests. I like this mini version for its portability to a summer picnic. Selfishly, the mini galettes also give each person a bit more buttery, flaky pastry crust and that's always a hit with me.
The recipe hosts only a few ingredients – probably things you have on hand. Because the pastry takes a bit of time to rest in the fridge it's a bit more of a "plan ahead" dessert; but just an extra hour will do. Fill the dough with fresh fruits in season. I recommend you do not use frozen fruit because when it thaws there will be a lot more of the juices from the fruit that could potentially cause a soggy bottom to your pastry crust. Another tip: while you may be tempted to pile on a lot of fruit, one overlapping layer is sufficient. A galette does not have the extended baking time that a pie does so having more fruit could actually result in an under-cooked centre.
Some things I have come to learn about short crust pastry:
it's generally a 2:1 weight ratio of flour to butter
cold ingredients mean an easier time combining in order to keep the dough flaky
the faster you work, the better
adding the wet ingredients must happen after the flour and butter resemble a sandy beach
"rich" short crust pastry means there is an addition of egg yolks as added fat, thus a richer crust
add a couple of tablespoons of sugar to a regular short crust recipe to use for sweet dishes
Now to the recipe!
Ingredients for the sweet rich short crust pastry
250g (1-¾ c) all purpose flour, sieved
pinch of salt
140g (10 Tbsp) unsalted butter, chilled and cut into 1 x 1 cm cubes
3 Tbsp caster sugar
2 egg yolks, beaten, and mixed well with the chilled water
3-4 Tbsp fridge-cold water
Ingredients for the fresh peach filling
4 medium, ripe peaches, stone removed, and peach sliced into .5cm sections
35g (1/4 c) all purpose flour
2-3 Tbsp caster sugar
1-2 tsp cinnamon
1 tsp vanilla extract
1-2 Tbsp water (may not be necessary)
1 Tbsp (total) unsalted butter to dot the galettes
1-2 Tbsp golden or coarse sugar to sprinkle on top
1 whole egg, beaten, for an egg wash
1-2 Tbsp apricot jam + 1 Tbsp just-boiled water
Directions
Weigh out the butter and cut it into 1 x 1 cm cubes (approx) then set these back into the fridge to keep cold.
Separate the eggs and put the yolks in a small bowl. Use a fork to beat these with 3-4 Tbsp of chilled water (depends on the size of your yolks). Set this mixture in the fridge.
Sift together the flour, salt, and sugar into the bowl of a food processor. Pulse a couple of times to incorporate and then scatter the fridge-cold butter on top. Give these ingredients a few short pulses and then run on and off at a bit longer intervals until the mixture resembles coarse sand. It is important that you DO NOT over mix this so as to have the butter forming a paste with the flour. Err on the side of under-mixing if you aren't sure.
When the butter/flour has reached a coarse sand texture, tip this into a medium mixing bowl and begin to slowly add the yolk/water mixture. Start by adding 2 Tbsp and give it a mix with a pastry cutter, or a fork, or two cutlery knives. You want to JUST bring the mixture together. As you go along, pinch a bit together with your fingers to test and feel how it's holding together. When it is sticking, but not sticky, the pastry is ready to be formed into a one inch thick disk (about the size of a tea saucer) and placed in clingfilm, then set in the fridge for about 30 minutes.
While the dough is chilling, prep the peaches by slicing in half and removing the stone. Slice the peach halves into .5cm wedges and set into a medium bowl where you'll sprinkle them with the flour, sugar, cinnamon, and then vanilla. Depending on how much time you leave for these to sit, they will release some juices, however, if after 20 mins (give it a stir) it looks too dry, add a smidge of water to bring it all together.
When 30 mins are up, the dough is ready to roll. I'll describe the process for these six minis and you can adjust it for one whole galette if that's your preference.
Heat the oven to 225C. Have a wire rack ready on the bottom, and another in the middle.
Have ready, three pieces of baking parchment and a baking sheet that will fit into your fridge. These should be about the width of your hand and the length of the baking sheet. I was able to get two bases on each sheet of paper.
Take out the dough and use a blunt knife to cut the dough into six equal portions (mine weighed about 75 grams each.) Form a portion of dough into a smaller disk and place on a very lightly floured surface. Ridge and roll the dough, turning ¼ turn with each roll, eventually forming into an organic-shaped circle or oval as your base. When it rolls out to the size of your hand, and about 1/4 cm in thickness, transfer to the strip of parchment. I placed two disks on each piece. Place the baking sheet and two disks into the fridge while you roll out the next two disks. Repeat until all six disks are rolled out and in the fridge. You need to keep the dough cold so the butter cooks at a more even rate when it hits the oven.
While the six disks are chilling, give the peaches another stir. Take out a layer of parchment with the two chilled disks and place this on another baking sheet. (I have a large sheet and could fit all six galettes on it.) Arrange the sweet peaches onto the centre of the galette disks leaving a one inch border. It's up to you how neat or random you get with this but I do suggest you be consistent with a low overlap of fruit to encourage even baking. Now, roughly fold over the remaining dough on the periphery to encase the fruit and form a border.
When all six disks have been filled and folded over, brush the edges with egg wash, dot the fruit with bits of butter, and sprinkle all over with sugar.
Take the baking sheet and place it on the lowest rack of your oven for the first 10 minutes of baking. Then switch it to the middle rack for another 10-15 minutes, depending on your oven. Do check them while they are baking. With the addition of sugar, you need to watch so they don't burn.
After 20-25 minutes of total baking time, when the crust is golden brown and the base is dry (take a peek) remove the tray from the oven. Allow the galettes time to cool on the pan, on a wire rack, for about 15 minutes. During that cooling time you can make a simple glaze with 1-2 Tbsp of apricot jam mixed with 1 Tbsp of just boiled water – enough water so you can easily brush a glaze onto the fruit. Glaze the fruit and transfer the galettes onto the wire rack to cool down further. At this point you can serve the warm galettes with a scoop of your favourite vanilla ice cream and enjoy… the fruits of your labours 😉