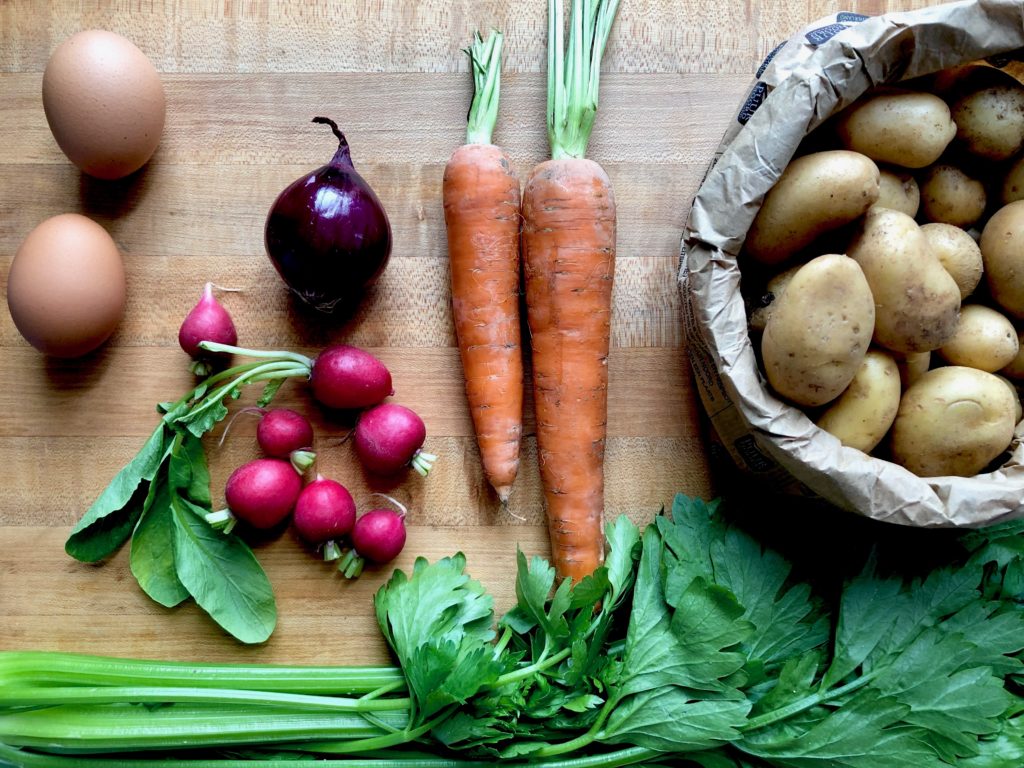 I had a hankering for traditional German potato salad which involves just a few ingredients, and it's dressed warm which means the potatoes soak up all of the delicious dressing. In the traditional recipe, bacon is used but I decided to omit it to keep this meat-free. In the traditional recipe, the potatoes are boiled. I chose to roast my new potatoes, and I tossed in a few chunks of carrot to add colour. The other additions I made were crunchy radishes and celery, and, a couple of hard boiled eggs that I knew would add creaminess once the salad was stirred around.
The final potato salad ticked all of my craving boxes! The cooked veg soaked up the simple dressing of oil, red wine vinegar, and Dijon. The celery and radish provided a glorious crunch. And the eggs did their job to make it just creamy enough. I was really pleased with this result.
I served the salad alongside some beautiful salmon, simply dressed with lime and dill. I made enough for leftovers, so lunches were covered for a couple of days.
New potatoes and radishes are all the rage at this season's moment, so maybe this salad will give you a nudge to add them to your next dinner menu. Here's the recipe!
Ingredients

1kg new potatoes (red or white), washed to remove dirt, skins left on, if need be, cut to generous bite-size pieces

2 large carrots, cut to generous bite-size pieces
½ medium red onion, diced or thinly sliced
6-8 radishes, thinly sliced
2 stalks of celery, cut to .5 cm pieces

2 eggs, hard boiled
handful of fresh parsley, roughly chopped

Dressing

60ml olive oil

30ml red wine vinegar
1 Tbsp Dijon mustard (or more to taste)

salt and pepper

For the Salmon

450 grams fresh salmon

the juice of one lime
drizzle of olive oil

½ tsp dry dill, or 1 Tbsp fresh

salt and pepper
Directions
For the potatoes and carrots, I drizzled them with olive oil, and sprinkled salt and pepper on them, then roasted them in a 200C oven for about 35 minutes, giving them a stir halfway through the cooking time.
While the potatoes and carrots are roasting, prep the rest of the ingredients: radishes, red onion, and celery, and hard boil the eggs.
You will also have time to create the dressing in a small bowl or jar, measure out the dressing ingredients and give this a quick mix up.
When all of the ingredients are cooked and ready, peel then chop the eggs and toss everything into a bowl to coat the potatoes and veggies, add salt and pepper to taste, and that's it.

For the Salmon…

Prep the salmon by laying it skin-side down on a lightly oiled baking dish. Give it a quick drizzle of olive oil and then season with salt and pepper. Next, a squeeze of lime, and a sprinkle of dill, and you're good to go. Uncovered and into the oven for about 10 minutes @200C, and the salmon should be ready. Test for doneness by poking it with your finger – it should be firm, but still have a bit of give.
One of the reasons I like what happened here is that I was able to keep working on different elements of the recipe while others were cooking. Multi-tasking for the win! This potato salad, while I'm almost certain Germans might have a hard time recognizing it, what with my additions of carrot, radish, celery, and eggs, could let this cousin in for a top spot onto a checkered tablecloth at their next BBQ. Warm or cold, the dish, is a hit!