Morning commuter or not, having breakfast at-the-ready when you get up and are headed out for the day, makes sense. Chia Pudding and Overnight Oats are two breakfast ideas that are long on taste and nutritional value, and short on preparation. These meals can and should be made the night before so you can store them in the fridge, add a couple of toppings when you get up, and you're ready to go in the morning.
Chia seeds, when they come in contact with liquid (almond milk here) become mucilaginous. This means a gooey coating forms around them and it's this bit that can help take the bad cholesterol out of our body. Oats are a grain that is also connected to helping lower cholesterol.
For these breakfasts, all you need is a glass jar that is about two cups in volume, and a few ingredients mixed together, and you're good to go. Be mindful of your dry to liquid ratio. If you don't add enough liquid you end up with a pot of stodge. However, this can easily be corrected by adding in a bit more liquid until you reach your desired consistency. I suggest you mix together the oats, chia seeds, and buckwheat with the almond milk, and let this sit overnight. In the morning, add a couple of extra toppings that you might not want to become soggy. (See suggestions below,)
In these examples, for one jar each, I used
2 Tbsp gluten free oats
2 Tbsp chia seeds
1 Tbsp toasted buckwheat
200ml almond milk
I mixed this together in a jar and let it sit in the fridge overnight. In the morning, I topped the one in the jar with: 1 Tbsp tahini, a handful of frozen fruit, and a sprinkle of coconut. The batch in the bowl was topped with tahini, fresh raspberries, Brazil nuts, coconut, and cinnamon.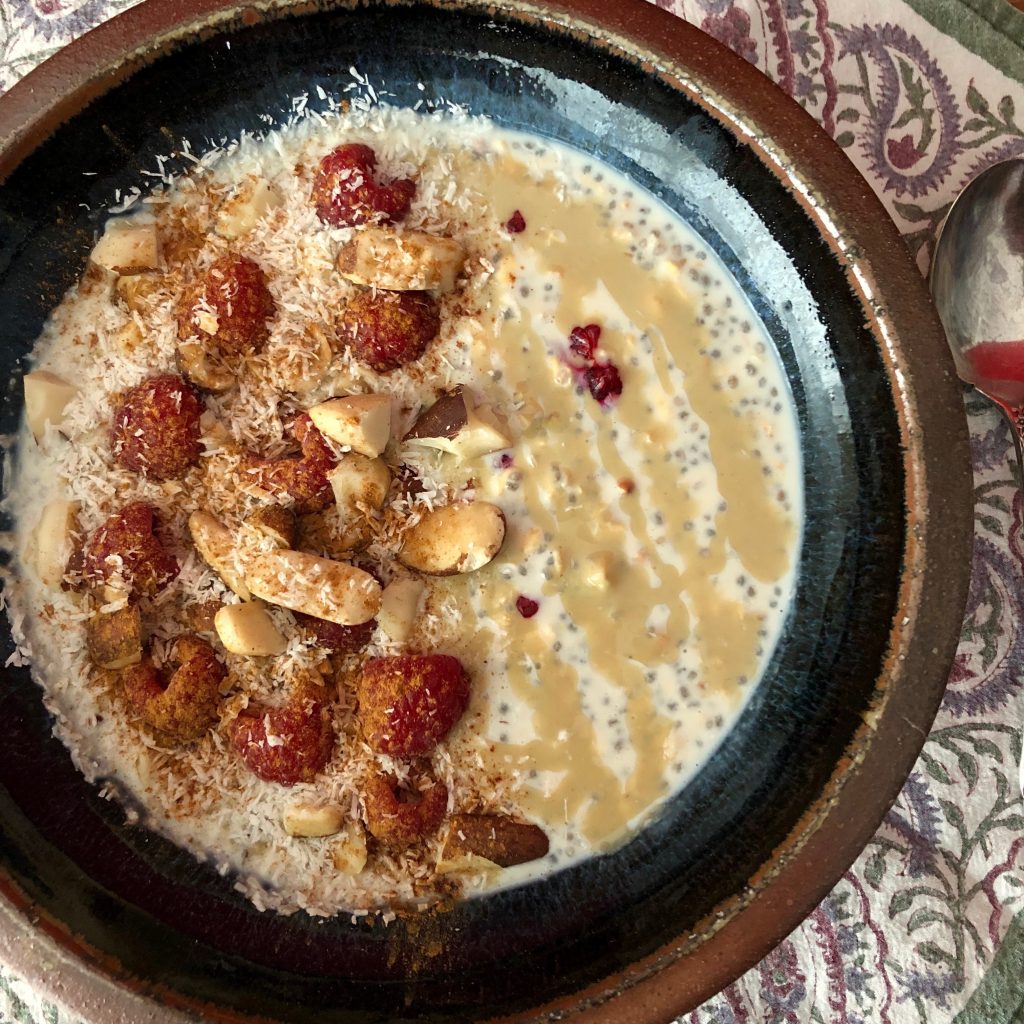 Chia Pudding and Overnight Oats can be tailored, modified, and played around with in a multitude of ways. The ingredients you choose to add should be unprocessed foods so you are getting maximum benefit. I suggest adding healthy fats: coconut oil or flax oil; fibre and protein: nuts, seeds, hemp and flax seeds; carbs: fresh or frozen fruits. If you want to warm up your pudding, go for it! When I bring mine on the train with me, by the time I'm en route and crack it open, the chill from the fridge has subsided and it's at a temperature I enjoy.
Sesame seeds, pumpkin seeds, sunflower seeds, walnuts, almonds, macadamia nuts, maca powder, cacao powder, banana, blueberry, strawberry, mango, grated orange rind, maple syrup, vanilla…. add your own to the list and start experimenting. I promise, once you get the hang of it, prepping breakfast the night before is a snap and with an extra minute or two in the morning to add some toppings, you'll be out the door in no time. Good morning, indeed!
One final note: You can also make these with only chia seeds OR only oats. If you are doing Chia Pudding, use 3 Tbsp chia seeds, and if you are doing Overnight Oats, use 1/3 cup gluten free oats to 2/3 cup almond milk. The rest, remains the same. Again, play around with the amount of liquid you use and make this as fluid as you like.