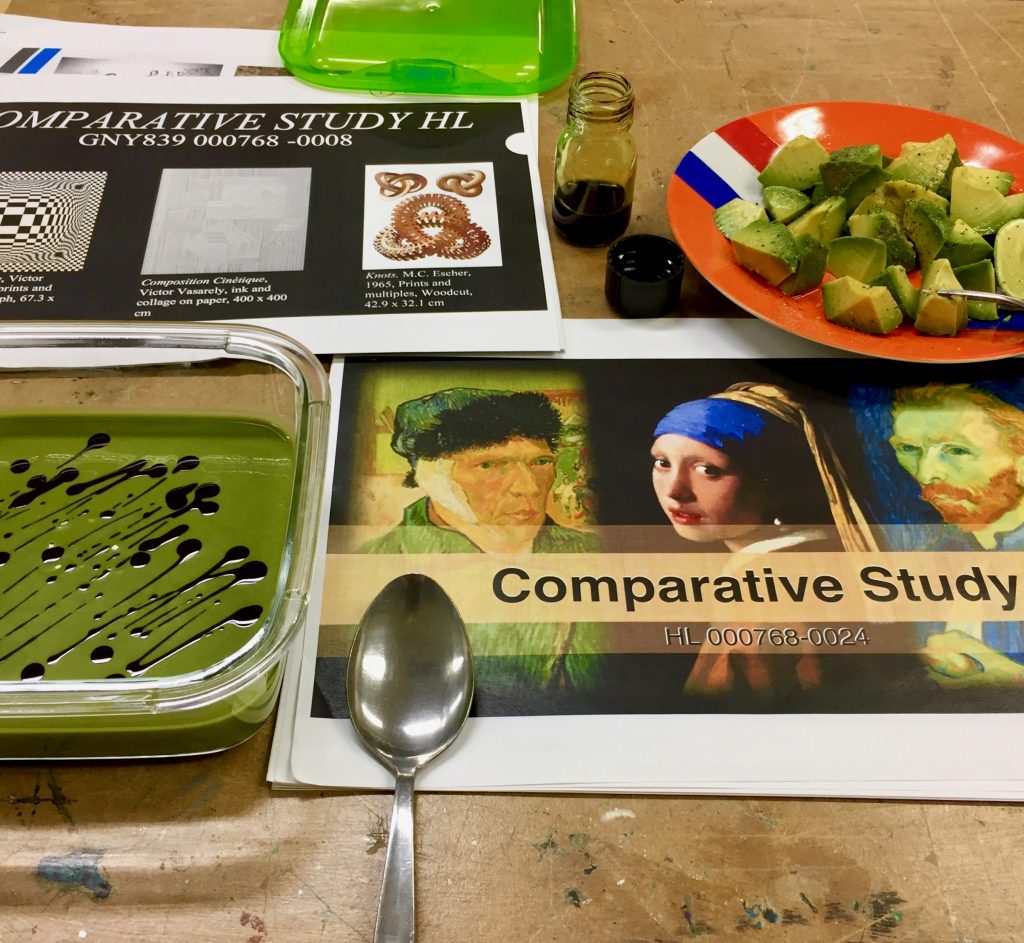 About three weeks ago, I started my annual CLEAN cleanse. If you've been following me, you know that this means for three weeks, a smoothie for breakfast, lunch of salads and veg plus proteins and healthy fats, and blended soups for dinner. Eliminating all dairy, wheat, gluten, eggs, sugar, caffeine, and some meats, may sound like a lot, but there is PLENTY to choose from to satisfy your hunger! One night, I had a bunch of spinach I wanted to use for more than just my morning smoothie and decided to make this creamy soup. Because dairy is eliminated (and, I'm not really eating much of it at all these days), I made the soup creamy by adding 1/2 of a cup of cashews at the time I was simmering the soup. This worked a charm and the soup is super creamy!
The soup starts with a typical mirepoix sautéed base of carrots, celery, onion, and eventually, garlic. I then added 2 cups of water and 2 cups of vegetable stock, along with a 1/2 cup of cashews, and simmered this for 20 minutes. 400 grams of fresh, baby spinach leaves went in for 5 minutes and the soup was ready to be blended. Simple, yes? YES!
This recipe made enough for three hearty servings. It would easily serve four as a starter. As you can see in these photos, I brought the soup to school for one of my lunches and paired it with a ripe avocado spritzed with fresh lime. A lovely and abundant green lunch – one of my favourite things to eat!
For the recipe, please read on. Clean and green, eat good food. xxx
Ingredients
1 Tbsp coconut oil
1 medium yellow onion, diced
2 stalks of celery, 1cm slices
2 carrots, chopped into 1cm rounds
2 cloves garlic, pressed
2 cups vegetable broth
2 cups still warm, boiled water
1/2 cup raw cashews
400 grams, fresh baby spinach leaves
sea salt, and freshly cracked pepper to taste
pumpkin seed oil for drizzling on top
Directions
In a large soup pot, melt the coconut oil over medium heat and add the chopped onion, celery, and carrots. Sauté, stirring frequently, until softened, about 6-8 minutes.
Add the garlic and give it a stir for about a minute, until softened.
Add the water, veg stock, and cashews; allow the soup to come to a simmer, and let it gently bubble away for about 20 minutes, with the lid on.
Add the spinach, and a crack of salt and pepper to taste. Lid on, the spinach will wilt fairly quickly. After about 5 minutes, turn off the heat, remove the lid and let the soup cool down a bit before you purrée it. You can use a hand-held blender or high speed blender. I used my Vitamix and it produced the creamiest texture!
After puréeing the soup, serve it with a generous drizzle of pumpkin seed oil.