Raise your hand if you've had Hamburger Soup!
At some point in the late 70s or early 80s you may have had the pleasure of a steaming bowl of Hamburger Soup set in front of you, sharp cheddar cheese on the side, ready to melt into this bowl of goodness. I remember eating this a lot in my teens. It was an easy meal to put together and fed a crowd – perfect for our family.
My sister and I were chatting this weekend because I had a hankering for cabbage and stew and cooked autumn veg and thought I'd ask her for her favourite recipe. She reminded me about the Hamburger Soup we used to eat at the cottage. I hadn't had it for ages and when she sent a photo of the ingredients and recipe, it all came back. This soup has a base of cooked beef and onions, and this is followed by canned chopped tomatoes, broth, carrots, and celery. The final dish is topped with cheese and comes together to taste like a burger-in-a-bowl. It's quite scrumptious!
The original recipe is from the Cottage Cookbook. A collection of recipes by the Pointe-au-Baril Islanders Association on Georgian Bay, we think… in the late 70s or early 80s. My sister was gifted the book by our mom in 1982 when she and her husband bought a cottage up north in Muskoka. As my sister said, the cover is long-gone (from regular use of the book) so we've got no details (despite my Google searching) of the exact date of publication. The book is filled with tried-and-true recipes by local cottagers, and the Hamburger Soup is one such reliable recipe.
The recipe I am including started out with a basic set of ingredients (as you'll see in the photo.) It had no garlic, Dijon, Worcestershire or Tabasco sauces, nor did it include the small head of cabbage I had a hankering for. I've jazzed it up a bit, and hope you try this incredibly delicious one-pot meal that has been masquerading as a soup for far too long.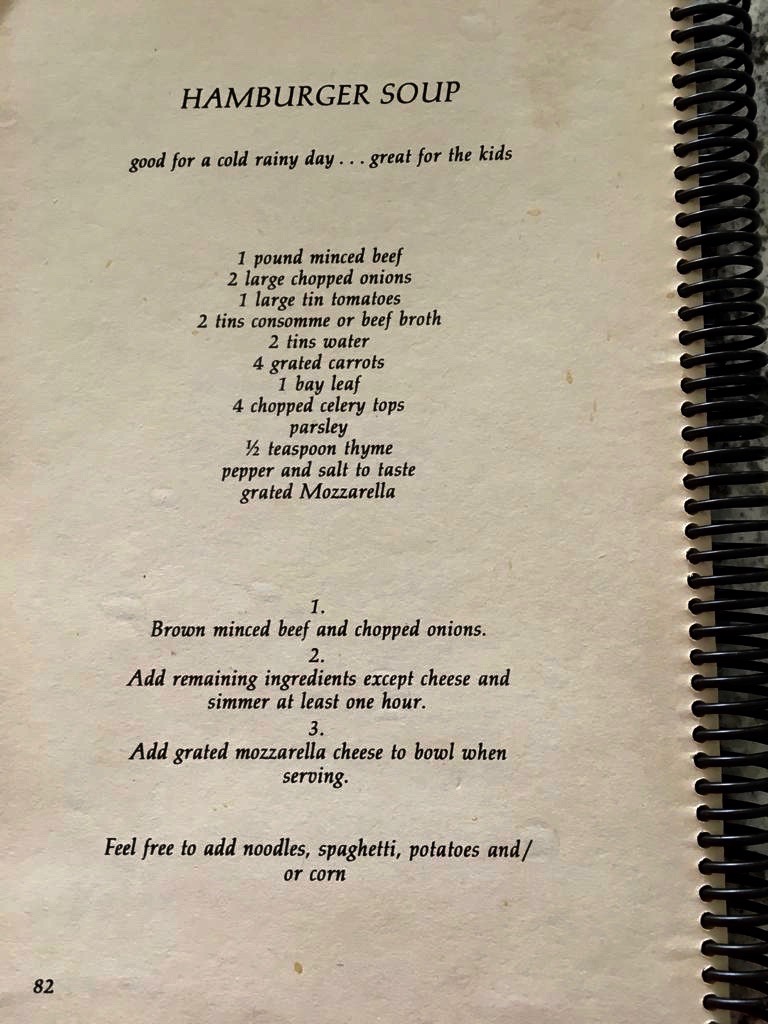 It is a very forgiving and welcoming dish. The recipe I am including leans toward the stew-y side. My sister serves hers with boiled pasta (orzo works well.) And, you can add another can of chopped tomatoes or perhaps more broth or water if you do want to keep it soupy.
WTKitchen's note: while this is a soup that starts with beef, you can eliminate it, and the beef stock entirely, and make a vegetarian or vegan version. If doing so, I suggest you sub in some grated courgette and/or finely chopped mushrooms to give it a "meaty" texture.
By the way, when I made and ate this on Saturday night, I woke up on Sunday morning, already looking forward to my lunch! I couldn't wait, and used it as a base for a shakshuka by poaching a couple of eggs in the tomatoey goodness!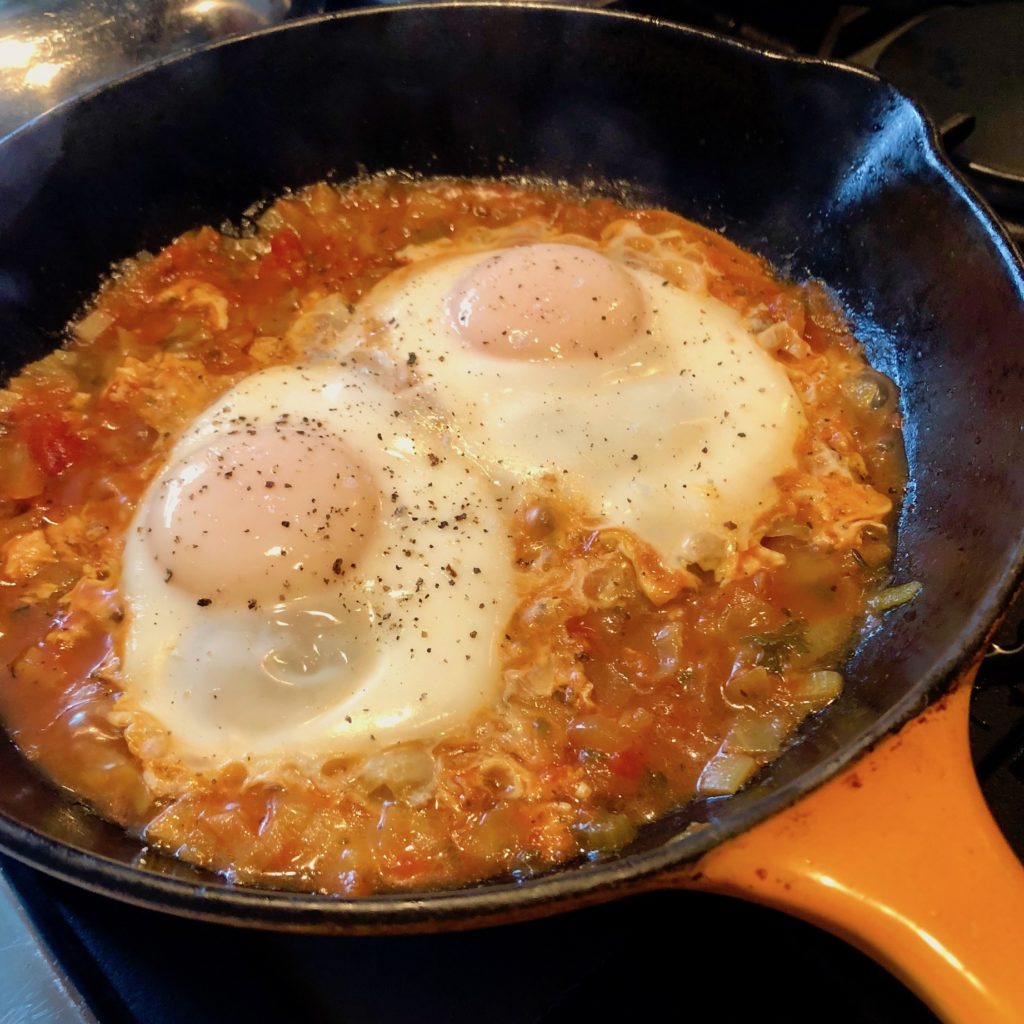 This is a great recipe, friends. I hope you are soon on your way to personalizing it into what soon becomes a favourite. And thanks, sisty-loo! I hope we are, before long, sitting at the same table, enjoying a bowl of this memorable soup, together. XXX
Ingredients for Hamburger Soup
450 grams lean ground, organic beef

1 large onion, diced
1 leek, green part removed, white stem chopped into .5cm half-moon bits
4 cloves of garlic, finely chopped

2 x 400 gram tins of chopped tomatoes
500ml beef stock
500ml water (add more if you want it soupier)
1-2 Tbsp Dijon mustard
1 Tbsp Worcestershire sauce (more if you like)
a few shakes of Tabasco (to your taste)
1 small head of cabbage (the size of a grapefruit) diced
4 carrots, grated

4 stalks of celery, chopped into 1cm pieces
2-3 bay leaves
1 Tbsp dried thyme
1 cup fresh parsley, chopped (save some for garnish)

1 Tbsp sea salt and 1 tsp freshly ground black pepper (more or less to your taste)
grated sharp goat's milk cheddar, or hard cheese of your choice, for garnish
Directions
Begin by heating your large soup pot or Dutch oven on medium for a few minutes and then adding in the beef so it can begin to cook. Stirring often, the meat should be cooked in 5-7 minutes. At this point, you can add in the onion, leek, and garlic, continue to sauté and cook these veg until they start to soften; another 4-5 minutes.
When the onion, leek and garlic have softened, tip in the tins of tomatoes, broth, water, Worchestershire, Tabasco, and Dijon, and give everything a good stir to combine. Allow this to warm up and then add the cabbage, carrots, celery, and dry herbs. Again, give it a good stir and now allow to simmer away on low, partially covered for 20-30 minutes. (If you are serving this over pasta, now is the time to get that on the go!)
When 30 minutes have passed, taste your dish and season as you like.
Ladle this into bowls and have ready your grated cheese, and pasta (if using.) An additional sprinkle of parsley would be perfect at this point!
Serve, and enjoy every bite. This dish can be portioned out for leftovers and frozen for another time.