I do love a good re-purpose!
This dish started with the leftover rice I had from a curry I had made earlier in the week. It then joined the beautiful fresh wild garlic and local mushrooms I bought at my Saturday market that were waiting patiently to be used. The next ingredient that was looking for work was the avocado. As we all know, avocados: not ready, not ready, not ready, READY, overripe! I felt this one was ready to make its way into a sauce.
I first prepared the wild garlic pesto, and set that aside in a jar. I took a few table spoons of it, and blended that with half of an avocado. This, was my magic sauce. The thing about avocados… many of us eat them as is: in a salad, on toast, or tossed into a smoothie. I really like them as part of a creamy pasta sauce or incorporated into a stirfry with rice, just as I have done here.
I bought a couple of different mushrooms this week. Shiitakes and King Oysters were perfect for this dish. They fry up well, and remain firm when cooked. I sautéed them gently over a low heat, with a little olive oil.
The lemon was used to freshen and jazz up the dish! Lemon is always a good choice, and in this meal, it rose to the occasion.
I am really happy with the way this came out. Well balanced, the meal is complete with veg, grains, and the wonderful addition of a creamy garlicky sauce. A bit of repurposing, and bit of fresh veg combined to make a darn tasty dish.
This is a base recipe that welcomes substitutions. If you can't find wild garlic, make or use regular basil pesto. If you aren't a fan of mushrooms, use whatever fresh or leftover veg you have on hand. No leftover rice? Make a fresh batch, or make/use leftover pasta. And that avocado that looks like it's about to take a turn for the overripe side, give it the job of chief healthy fat in this flavour-filled and delicious dish!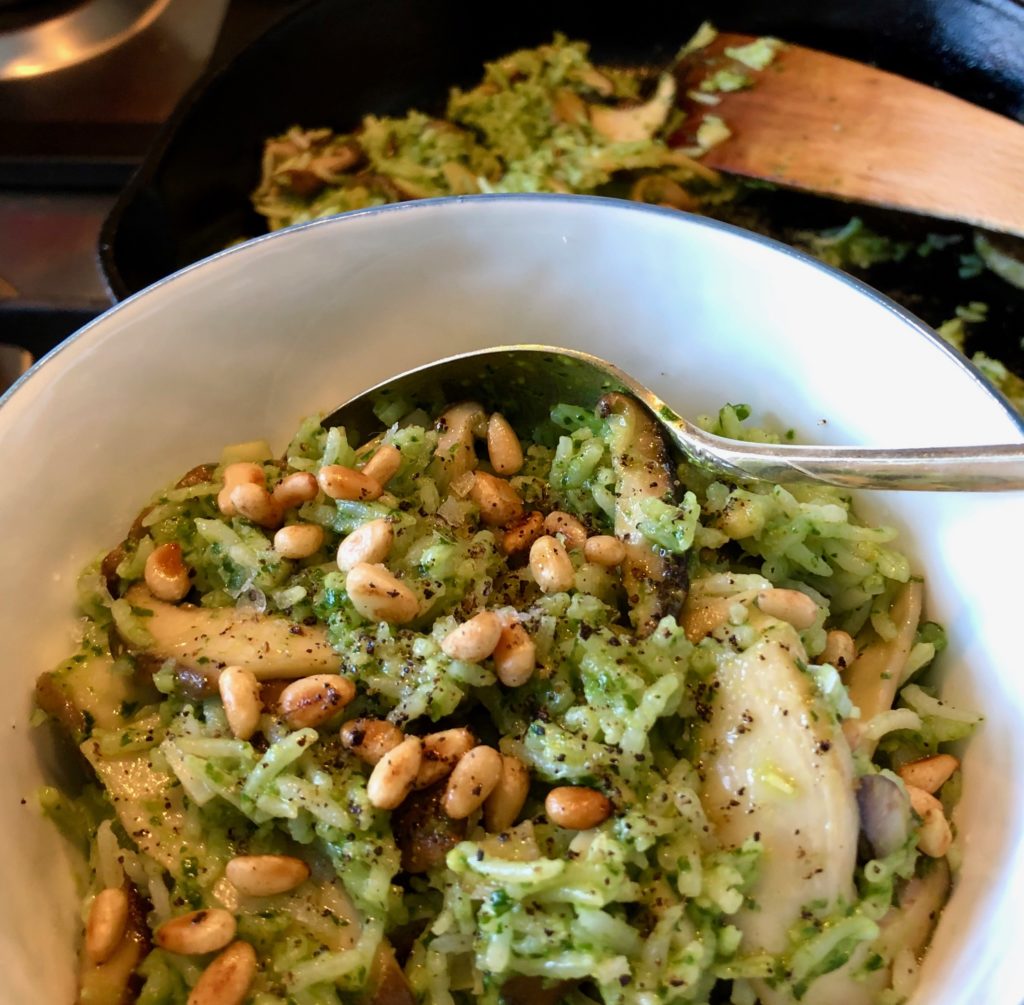 Ingredients for Rice, with Wild Garlic Pesto, Shiitakes, and a Creamy Avocado Sauce,
1-2 bunches wild garlic, about 75 grams
2-3 Tbsp toasted pine nuts (a few extra for garnish)
1/2 cup extra virgin olive oil
the rind of one lemon, and half of its juice
salt and pepper to taste
1 Tbsp light olive oil
100 grams shiitake mushrooms, cleaned, sliced
150 grams King Oyster mushrooms, sliced
2-3 Tbsp light olive oil
1/2 of a ripe avocado
3 Tbps wild garlic pesto
Salt and pepper to taste
leftover rice, or fresh rice, or fresh/leftover pasta
Directions:
Place the wild garlic into a small food processor, along with the pine nuts, grated lemon rind, lemon juice, salt, pepper, and olive oil. Buzz that around for 15-20 seconds, until you reach a smooth consistency. Take a look inside and see if the mixture is fluid enough to mix through your dish. It should be the consistency of runny yogurt, if it's not, add a bit more olive oil (you can also add a dash more lemon to thin it out.) Pour most of this pesto into a jar, and reserve 2 Tbsp for your creamy avocado sauce.
With the remaining 2 Tbsp of pesto in your processor, add the avocado, and a drizzle of olive oil, and process until this mixture is smooth and can be used as a sauce for the rice mixture. Set this aside as you sautée the mushrooms.
Clean and slice the mushrooms and lightly sautée these in light olive oil for about 5 minutes, stirring often. When the mushrooms are soft, add the rice to the frying pan, and re-heat.
When the mushrooms and rice have warmed up, scoop in the avocado creamy garlic sauce, and mix all together to combine. Serve into bowls and sprinkle on a few more toasted pine nuts for added crunch.
I'm okay with leftovers, but I much prefer to re-purpose a meal, add a little this or that to it, and create a whole new dish. That's exactly what happened here. One ingredient, rice, led me down a fresh market path where I used locally sourced ingredients to create a satisfying dish. You can play around with this one, add your own bits of this and that. In the end, leftovers + fresh, made for a winning combination, and a whole other set of leftovers!