This recipe was inspired by Jean Kwok's novel, Searching for Sylvie Lee.
Book reference, p201: "Amy was a good cook, her dumplings tender and soft…"
Dumplings? Wrappers? Pinching? The world of dumplings is relatively new to me. I've had the opportunity to pinch some dumplings for a fine company here in Amsterdam, but I've not really made the effort to do so at home. And after this experience, I have to say – what the heck have I been waiting for? Dumplings may look technically challenging, and there is definitely a knack to learning how to handle the thin dough, but once you get into your groove, I think that, like me, you'll find them quite easy to put together. I called upon my Polish roots by making the shape of these chicken dumplings into something that resembles pierogi! There was a method to my madness here – since the filling was raw chicken, I wanted to have a greater surface area upon which to cook the insides to be sure the meat was thoroughly cooked.

I think the combination of green onion, garlic, and ginger in this chicken dumpling highlight a traditional Asian flavour profile. The hit of ginger is present, but not overpowering. If you are into a spicy kick, add in enough hot pepper to satisfy. Depending on how much fat is available in your ground chicken, you may not need the egg. Add the yolk* if you think you need it to help bind the mixture together.

The great thing about dumplings is, if you make too many, you can easily freeze them in their raw state and quickly boil them up, ready for a quick browning in the frying pan when you are in need of a last-minute meal.

Are you ready to go try your hands at dumplings? I promise, they're easy. Get pinching! 🙂
Prep Time: 45 minutes
Cooking Time: 10-15 minutes
Total Time: 60 minutes
Makes: 2-3 dozen
Ingredients for the Chicken Dumplings
500g ground chicken (just over 1 lb)

2 green onions, finely chopped
2 cloves of garlic, crushed
2 thumbs of ginger, finely grated (5cm, or 2 inches)
1 small carrot, finely grated
½ of a hot red pepper, finely chopped (seeds removed if you want to lower the heat)
fresh black pepper, to taste

1 Tbsp soy sauce or tamari

1 Tbsp toasted sesame oil
1 egg yolk* (only use if you feel the mixture isn't holding together)
Round wonton/dumpling wrappers – these can be found at an Asian supermarket, in the frozen section
1-2 Tbsp oil for frying the dumplings
¼ – ½ cup of water for steaming
Ingredients for the Dipping Sauce
125ml (½ cup) low sodium soy sauce, or tamari

125ml (½ cup) red wine vinegar
2 Tbsp maple syrup, or honey
3 cloves garlic, crushed
2 Tbsp minced ginger (5cm, or 2 inches)
2 tsp toasted sesame oil
1 tsp sesame seeds

Measure all ingredients into a bowl, mix, and set aside
Directions for the dumpling filling, and filling the dumplings
If you bought frozen dumpling wrappers, remember to take them out of the freezer and set on the counter to thaw, about an hour before you start.Begin by prepping the chicken and chopping/grating the vegetables along with the garlic and ginger. Mix everything together with a large spoon. Now it's ready to fill the wonton wrappers!
Filling and folding the dumplings
Using a generous tablespoon of the mixture, drop this onto the wonton wrapper that you have wet around the edges with a bit of water, then pinch the edges of the dumpling together, making sure to squeeze out any potential air bubbles. When your dumplings have been pinched, I suggest setting them aside on pieces of baking or waxed paper so they don't stick to the surface. (At this point, you can freeze the dumplings to use another time. From frozen, it would be easier to boil the dumplings until they float to the top, and finish them off in a bit of oil in a frying pan.)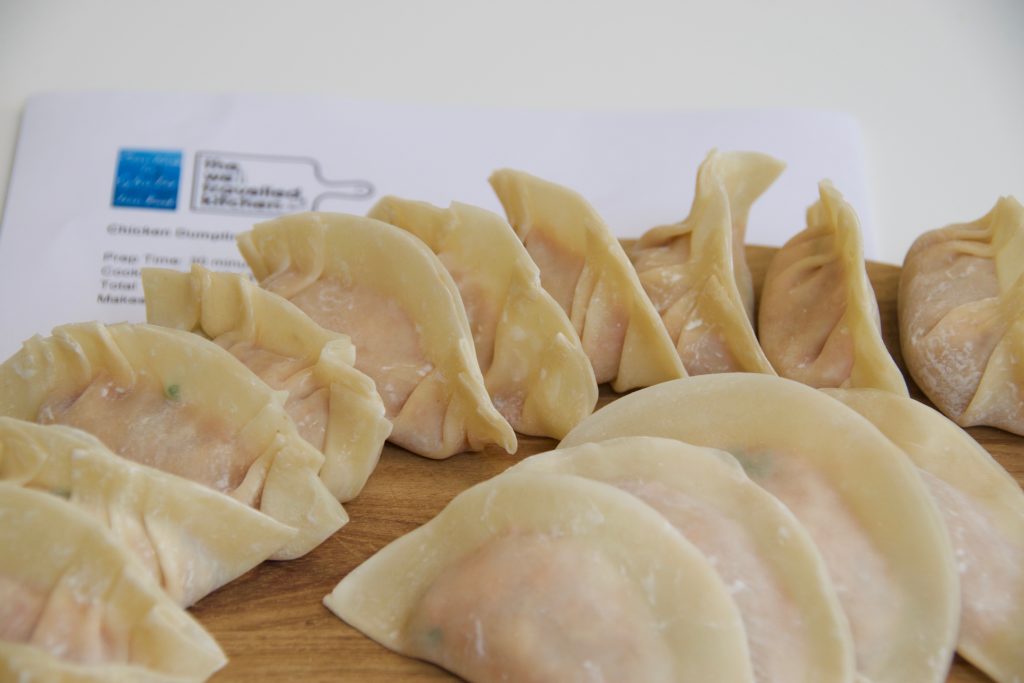 Cooking the dumplings
Heat 1 Tbsp of light olive oil in a large, preferably (non-toxic, eco-friendly) non-stick pan on medium heat. Try not to crowd the dumplings. I suggest doing these in batches. If your dumplings are touching each other, they may stick together. Give them some space 🙂
Add the dumplings, one by one, flat side down, and allow to cook for 2-3 minutes, until they start to crisp up on the bottom. Check that this is happening by using a pair of tongs to gently lift them and have a peek. When the bottoms have turned a medium brown and are starting to look crispy, it's time to add about ¼ cup of hot water to your pan, and then top with a lid so the dumplings can steam. BEWARE: oil and water do not mix! This can be a tricky moment. To avoid getting splattered by the hot oil, I urge you to have your lid at the ready, partially covering the dumplings in the pan. Add the water at the far side of your pan, and top it with the lid to allow the dumplings to steam for another two minutes. Check on the dumplings while they are steaming. After two minutes, remove one and cut it open to check for doneness. They should be ready. Transfer the cooked dumplings to a serving platter and enjoy with the dipping sauce!
**If you'd like to add some spice to this dip, shake in some red pepper flakes, sriracha, or a few rings of chopped hot red pepper.