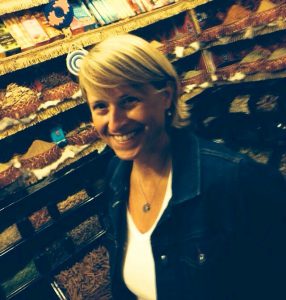 Hi, and welcome to my virtual kitchen! My name is Jennifer and I've been playing around in the kitchen since I was about eight years old. I started as a baker and have, over the years, moved my culinary interests to include and satisfy many a savoury craving. I love experimenting. I am a recipe adapter and developer. In the quest for putting the best ingredients into my body, I take recipes and adapt them to include healthy, nutritious preferences.
Why am I The Well Travelled Kitchen?
Good question! After teaching English and Art in Toronto for nine years I decided to take my gig on the road and moved to Eastern Europe. I spent nine glorious years in Budapest, tasting, cooking, sharing, and exploring the many offerings from the Hungarian larder. After my stint in Budapest, I moved north to The Netherlands where Amsterdam has been my home for the past thirteen years. During my time on this continent, I have the incredible fortune to travel far from my own kitchen. I've wandered in many European cities, always searching for the taste of local food specialties. Some highlights of my travels on this planet, have been east to India, Hong Kong, and Thailand, south to Mexico, Morocco, and Tanzania, north to Russia, Sweden, Denmark, and most recently, Iceland. It is from the tastes of my travels that I bring new ideas into my kitchen.
Having been raised in a home influenced by Polish cuisine, I had many a "stick to your ribs" meal! Mom and Dad brought years of family food history to our table. While I am not averse to having such a meal that will sustain me for hours of field plowing (some of my ancestors were pig farmers) I find myself cooking dishes that are satisfying in flavour and nutrition. In reference to my grandfather's advice:  Never compromise on your stomach, I do my best to make and eat foods I call "good, and good for you."
My approach to food echoes that of Michael Pollan:
Eat food. Not too much. Mostly plants.
When I can cut back and adapt the type of sugar that is in a baking recipe I do, and make an effort to use natural sweeteners. I use dairy in some recipes but more often these days, I am using nut milks and coconut oil instead. Recently, I have noticed a sensitivity to gluten, and have been more conscientious and use gluten free flours. I have been a meat eater for most all of my life. Lately, though, I find myself eating it typically when I dine out. I just don't see the point of killing an animal so it can land on my plate; there are so many other and more delicious and nutritious options. A plant-based, clean diet makes me feel better so it's where I choose to put my culinary creativity.
Nutrition advice? "Have you seen the latest chocolate cake recipe using quinoa?", "Do you remember how Mom made this?", "I bet there's a vegan version of that." These days, I call most often upon my sister and my nieces when I have a culinary query or conundrum. My nieces are certified holistic nutritionists and always have an answer at the ready for my nutrition queries. And my sister, well, she's the queen of the kitchen and I can honestly say I have never had a bad meal from her creative hands. The cookbooks I consult most often are by Angela Liddon, Anna Jones, Donna Hay, Jamie Oliver, Nigella Lawson, and Ina Garten to name a few. I also frequent restaurants so I can taste and learn and bring back inspiration for my cooking. But, in my own kitchen is where I love to be! An ideal day for me is waking up early and heading to the market to gather ingredients for a fresh, delicious meal. It's a meal I will joyfully spend a few hours creating by hand and heart. And best of all, ending this day with cherished friends, who join me at my table.
I'll close with some kind words from Nigel Slater whose take on dining is akin to mine. Nigel says:
There is something quietly civilizing about sharing a meal with other people. The simple act of making someone something to eat, even a bowl of soup or a loaf of bread, has a many-layered meaning. It suggests an act of protection and caring, of generosity and intimacy. It is in itself a sign of respect.
Savour this virtual kitchen, and if you're in my neck of the woods, give me a jingle and I'll set a place at the table for you!
Jen
The Well Travelled Kitchen is about delicious food, cooked from scratch. I believe food connects people. Culture, adventure, flavour, home: Eat good food.
05 February 2017